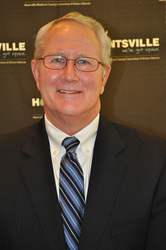 Huntsville, AL (PRWEB) June 09, 2014
The Huntsville/Madison County Convention & Visitors Bureau (CVB) has selected a hospitality industry veteran to lead their Convention Department. Bob Rogers, a 30 year veteran in the hospitality and tourism industry, will be Vice President of Conventions for the CVB.
Rogers will lead the Convention Department, the CVB department responsible for recruiting conventions and meetings of all sizes to bring business to Huntsville/Madison County. A brief sampling of recent conventions held in Huntsville/Madison County includes the Association of the United States Army (AUSA) Winter Symposium and Exposition, the Social Media Tourism Symposium, Select Traveler and Leadership Impact.
In 2013, over 1,000 meetings were brought to Huntsville/Madison County.
"We're thrilled to have Bob join our staff, and we look forward to the organization, as well as the community, benefitting from his considerable experience," explained CVB President and CEO Judy Ryals. "Bob brings a unique skill set to the CVB which includes extensive experience in hotel and conference center management," adds Ryals.
The Convention Department consists of four Convention Sales Managers and a Convention Services Manager as well as a team of on-call Registration Assistants to assist in enhancing the meeting attendee's conference experience.
Rogers is an active and involved member of the hospitality industry and has served in many capacities, including board level positions, with several statewide groups including the Alabama Hotel/Motel Association, the Alabama Travel Council and the Alabama Restaurant & Hotel Alliance. Bob is also the 2004 recipient of the Huntsville/Madison County Hospitality Association's highest honor, the Pineapple Award.
For more information, contact Jessica Carlton, Huntsville/Madison County CVB Marketing Manager at 256.551.2294 or jessica(at)huntsville(dot)org.
About Huntsville/Madison County CVB
The Huntsville/Madison County Convention & Visitors Bureau (CVB) is a non-profit 501(c)(6) organization which was developed in 1970 to create economic growth for Huntsville/Madison County by marketing the community as a top-of-mind convention and visitor destination. As the official city/county agency which promotes the area as a tourist destination and convention site, the CVB works with an array of hospitality industry partners to market our destination to visitors of all types.
###