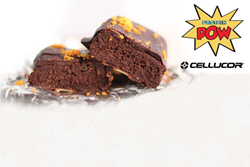 With a little bit of know-how, and a lot of creativity, you can satisfy sweet cravings with seriously healthy protein treats.
New York, N.Y. (PRWEB) June 09, 2014
Cellucor, maker of COR-Performance Whey protein, and Protein Pow, renowned protein powder chef, author, and successful blog owner, will join forces to host exclusive cooking workshops on June 10th and 11th, in New York City. Protein Pow will work alongside fans, providing them with step-by-step instruction on how to make a number of delicious, diet-friendly treats using COR-Performance Whey protein.
"I am really excited to host my first U.S. Protein Pow workshop with Cellucor because their powders are phenomenal… In my line of work, I get to try a LOT of different protein powders. There are, of course, a few really tasty powders out there, but delicious, SERIOUSLY delicious? I can only count a handful. That's where Cellucor comes in. The first time I tried their whey protein powders, I couldn't believe it," commented Protein Pow's Anna Sward.
Over the past year, Cellucor and Protein Pow have teamed up on digital recipe articles, a free recipe booklet, video and now workshops. With recipes like "Dark Chocolate and Orange Protein Bars" and the "Almond and Cinnamon Protein Shake," Protein Pow and Cellucor have demonstrated how to marry healthy eating and a love for decadent desserts.
"Working with Anna [Protein Pow] over the past year has been a figurative and literal treat," beamed Cellucor VP, Daniel Lourenco. "The recipes she's developed using our COR-Performance Whey continue to amaze us all. They truly demonstrate not only the versatility and amazing flavor of our product, but even the simple fact that with a little bit of know-how, and a lot of creativity, you can satisfy sweet cravings with seriously healthy protein treats."
Though this is Cellucor's first cooking workshop series, Protein Pow is no stranger to getting her hands dirty in the kitchen alongside fans. Protein Pow has been hosting workshops overseas since 2012, and this event will mark her first workshop in the U.S.
On top of the workshops, Protein Pow and her publisher W.W. Norton will spend time in the Big Apple to meet with fans for an exclusive book signing at the Protein Bakery in NYC, on June 14th, from 12:30 PM-2:30 PM.
CELLUCOR/PROTEIN POW WORKSHOP DETAILS:
When: June 10th & 11th. 6 PM-8 PM
Where:
Shooting Kitchen
307 West 38th Street
Suite 1805
New York, NY 10018
shootingkitchen.com
Cost per ticket: $25
Where to buy: Fans can purchase tickets through Eventbrite.
About COR-Performance Whey:
COR-Performance Whey features a fast digesting Whey Protein Isolate based formula that packs 25 grams of protein into every scoop. The 100% Whey Protein has minimal fat or carbs, and added digestive enzymes. It also comes in a variety of carefully crafted, imaginative flavors to suit customers' individual tastes.
Cellucor's COR-Performance Whey was dubbed "Breakout Supplement of the Year" at the 2013 Bodybuilding.com Supplement Awards. The prestigious awards are based on fan vote, and reflect customers' favorite brands and products.
About Protein Pow
Anna Sward is the creator of Protein Pow and one of the world's leading experts on protein powder-based cooking. Anna regularly hosts cooking workshops with professional athletes and members of the general public. Her recipes have been featured in several top magazines and she is a columnist and feature writer at bodybuilding.com, Muscle & Fitness magazine, as well as a contributing author at fitocracy.com. She is also the author of The Ultimate Protein Pow(d)er Cookbook and creator of the Protein Pow App.
'The Ultimate Protein Pow(d)er Cookbook', the world's number one protein cooking recipe book, was recently published by W.W. Norton and is being distributed and stocked internationally. Contact Anna's publisher, Ann Treistman, at atreistman(at)wwnorton(dot)com for more information about her book, and for signing information.
About Cellucor
Cellucor is an award-winning, safe and effective supplement brand known for its premier weight loss and sports nutrition product offerings. Cellucor products can be found at GNC, Bodybuilding.com, Vitamin Shoppe and select retailers internationally. Visit Cellucor.com or connect with the company on Facebook or Twitter.
###