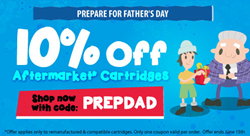 A printer can be an excellent tool for Dad-focused photo theme crafts like, cards, calendars, office decorations, even paper 3D figures.
Los Angeles, CA (PRWEB) June 11, 2014
To get ready for Father's Day, InkjetSuperstore has lowered their prices on aftermarket cartridges 10% to help people prepare. In order to take advantage of such savings, people can use the code PREPDAD.
Father's Day is an opportunity to show appreciation and love by taking the time to make him a great gift. There are many Free printable ideas on Pinterest and other sites specifically for this celebration. Visit InkjetSuperstore's Pinterest page for the entire board called "Father's Day FREE Printables" to get great ideas.
It is important to be aware that aftermarket cartridges are, in fact, compatible and remanufactured options of OEM cartridges. Compatible cartridges are new cartridges not made by the printer manufacturer but in this case by InkjetSuperstore. The remanufactured option is a recycled cartridge that has been cleaned and refurbished with new parts and ink. Using remanufactured options cuts cost up to fifty percent and with a ten percent discount on top this week some cartridge's end with the cost of just a few dollars. People can get more than just one set of cartridges for the price of one original brand.
About InkjetSuperstore
Online retailer with ten years of experience on printer ink consumables as well as office supplies. They sell OEM and aftermarket options for brands such as HP, Brother, Lexmark, Kodak, Canon Dell and more than thirty other printers brands.