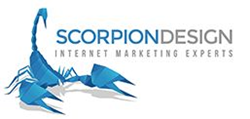 Valencia, CA (PRWEB) June 09, 2014
Scorpion Design, LLC continues to push the limits with record breaking campaign launches and award-winning designs. The month of May was no exception with hundreds of new and continuing clients launching cutting-edge Internet marketing campaigns with the help of Scorpion's expert team. In an effort to boost morale, Scorpion Design, LLC ran yet another promotional giveaway wherein three lucky winners were able to start off their campaigns with free additional advertising funds.
Clients whose websites launched between May 21 and May 30 were automatically entered into the raffle, which included thousands of dollars in free search advertising budgets to boost their take off. The three tiers of prizes started with the third place prize of $500 in increased budget on search advertising for the first month. The second place winner was to be awarded with $1,000 in additional search advertising funds and the grand prize gave the winner $2,000 additional budget to be paid by Scorpion.
This week, Scorpion announced the winners of its May promotion. All three winners launched brand new website campaigns within the designated dates. In third place, winning $500 in budget funds was the Law Offices of Tragos & Sartes, P.L. Next, in second place, New Jersey Criminal Defense Attorney Clifford E. Lazzaro, P.C. took home $1,000 for its first month of marketing. And last, but certainly not the least, the grand prize went to Brennan Law Firm, a Las Vegas firm practicing several types of law.
Scorpion continues to break through the limits of Internet marketing and impress large names in the business. Handling millions of dollars in marketing investments every year, Scorpion Design continues to help clients across the nation grow their business and receive limitless ROI with smart tactics, creative strategies, ground-breaking technology, and outstanding customer service.
Located in Southern California, Scorpion Design, LLC is an award-winning provider of comprehensive Internet marketing solutions. Its cutting-edge technology is delivered by one of the smartest and innovative marketing ensembles in the industry, strategically implementing marketing investments to maximize ROI for clients. Scorpion Design, LLC has reached virtually every market and service industry, providing quality to businesses throughout the nation. Learn more about how Scorpion Design, LLC can help you grow your business and revenue by visiting them online at http://www.scorpiondesign.com today.