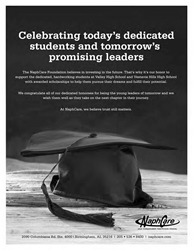 Birmingham, AL (PRWEB) June 12, 2014
NaphCare's commitment to students in the state of Alabama and the Birmingham community includes providing support and financial resources to commendable high school students in their pursuit for higher education. The NaphCare Foundation Selection Committee works closely with leadership from VHHS and VHS to identify deserving and hardworking students whose academic and social achievements may otherwise go unnoticed in a selection process based on athletic performance or standardized test scores. Students are evaluated according to accomplishments that are not measured by standardized testing.
The scholarship was inspired by the VHS Class of 1961. Members of the 1961 class started a tradition of donating money annually to assist VHS graduates entering college. The NaphCare Foundation supports this tradition and awards a one-time scholarship to ten students to help them with costs in their first year of college. To date, the foundation has funded over 30 such scholarships to VHS seniors.
NaphCare also awards the Tommy Ward Memorial Scholarship at Vestavia Hills High School. This scholarship was inspired by Tommy Ward, a VHHS coach who was killed in a tragic accident over 20 years ago. NaphCare is proud to join VHHS in honoring Coach Ward's legacy by selecting deserving students to receive scholarships each year. The NaphCare Foundation is proud to have awarded a total of eight scholarhships this year.
As a healthcare provider, NaphCare believes in its responsibility to positively impact our community, both locally and in our partnership locations. Since 2012, the NaphCare Foundation has awarded over $400,000 worth of scholarships to outstanding youths entering college.