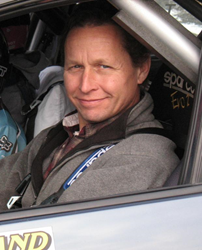 I'm really getting excited about driving the EVSR at Mt. Washington... I like to be involved in first-time accomplishments. - Tim O'Neil
Dalton, NH (PRWEB) June 09, 2014
Tim O'Neil, the 1990 Mt. Washington Hillclimb overall winner and record holder, will be driving EVSR #02, a 100% electric race car, during the 2014 Subaru Mt. Washington Hillclimb set for June 26-29 at the Mt. Washington Auto Road in Gorham, NH. It will be the first fully electric race car to ever compete in the Mt. Washington Hillclimb which is celebrating its 110th anniversary this July as being one of the country's oldest motorsports events. In addition to winning the Mt. Washington Hillclimb in 1990, O'Neil has won five U.S. and North American Rally Championships and was also a factory driver for Volkswagen and Mitsubishi. He is currently under contract with Ford.
In a recent conversation with EVSR Technical Director, Andrew Smith, about preparations for the upcoming Mt. Washington "Climb to the Clouds", O'Neil said: "I'm really getting excited about driving the EVSR at Mt. Washington. The EVSR appeals to me as it will be the first all-electric race car in this event, and I like to be involved in first-time accomplishments. This technology is going to be a big part of the future of motorsport. I'm looking forward to the mid-engine (motored) configuration of the EVSR as I've never driven a mid-engine car in competition, so this will be a new challenge. I also welcome the challenge of needing to adapt quickly to the EVSR, as this is what we do and teach every day at the Team O'Neil Rally School and Car Control Center."
The end goal of EVSR is to build an entire fleet of electric sports racing cars, and host a series. Once a series of EVSRs are built, they will be fully rentable. Custom cars will also be available to purchase.
EVSR's simple design and proven chassis make it the only electric racing car that can be supported, maintained and campaigned by an average club racer without special skills or factory support. Designed and built by seasoned professionals at Entropy Racing, and with a support network that will follow each car and each customer, EVSR cars are versatile and can be used for track days, sprint races, hill climbs, auto-crossing, and even the drag strip.
Entropy Racing began sports car racing in 1989 and started renting race cars to clients in 1991. A leader in club racing services for over two decades, Entropy Racing provides services from car prep and delivery to rental race cars, coaching, event management services, fabrication, and just about everything else a club racer could need. For more information about Entropy Racing and EVSR or to inquire about sponsorship packages, visit http://www.evsr.net or call 570.682.6979.
About Team O'Neil: Team O'Neil is known as the premier location to learn how to drive on loose surfaces. 5-time North American rally champion Tim O'Neil has handbuilt the roads to mimic all the situations he has come across in decades of rallying. Team O'Neil has trained every winner of the Rally America Rookie-of-the-Year award including Ken Block.