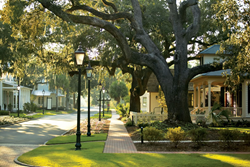 Summer Concert Series Schedule
Hilton Head, South Carolina (PRWEB) June 10, 2014
Music has always been food for the soul in Bluffton, South Carolina. Real Estate Scorecard is thrilled a friendly coastal South Carolina gated community is opening its gates and is happy to host a variety of events that will feature a whole lot of tunes for concert enthusiasts with proceeds benefiting Family Promise of Beaufort County, a non-profit who's mission is to provide temporary shelter, family stability, and permanent housing solutions for homeless families with children by mobilizing community resources. Palmetto Bluff events are widely anticipated throughout the entire year by local the community and for those searching for the best places to retire in South Carolina.
May 20th marked the first date of the summer concert series at Palmetto Bluff this year. Families, friends and their guests gathered under the oaks at Wilson Village to listen to one of the hottest local bands in the south. The Bushels, the first of six bands this summer, performed hits from their past albums Wood & Steel and Blacktree for the owners of Bluffton homes. The acoustic quartet kept the night hopping with their folk infused tunes, and kicked off the first summer concert series in style!
From Lowcountry beats to authentic southern rock, these performances will lift spirits during the weekdays and leave the audience wanting more. Check out the list of performers that are scheduled to appear at the upcoming Palmetto Bluff events:
June 10: Cranford Hollow
June 24: Whitley Deputy & the B-town Project
July 15: The Accomplices
July 29: Zack Stiltner Band
August 12: Deas Guyz
Wilson Village at Palmetto Bluff will be buzzing with excitement every Tuesday and all proceeds will be donated to Family Promise of Beaufort County. Residents and guests can spend a night boogying under the stars and know their donation is going to a fantastic cause. Family Promise of Beaufort County is dedicated to helping homeless families with children.
This coastal South Carolina gated community is a tight-knit group, and they enjoy spending time in their gorgeous surroundings. Wilson Village is the heartbeat of the community and offers residents a variety of restaurants, shops and outdoor locations filled with history and charm. Retirees can spend a day strolling through the Village Green, shopping at the local market and, of course, attending the scheduled Palmetto Bluff events.
This neighborhood is bursting at the seams with outdoor activities, and there is still more to learn. Just recently, Palmetto Bluff earned the 2014 Bliss Award for Best South Carolina Community of the Year from us out of 275+ master-planned communities Real Estate Scorecard monitors. While all of the Bluffton homes have incredible curb appeal, this Lowcountry community takes the cake with its top notch amenities and traditional southern home designs.
Palmetto Bluff is located in one of the oldest areas in southern history, and dates back 12,000 years during the time of the Paleoindians. The times have clearly changed, but the neighborhood has preserved and protected its natural surroundings within its 24 hour man gated entrance. While 370 homes are built to date within Palmetto Bluff, the residents enjoy a variety of activities that honor the outdoors beyond the comforts of home.
Take a peek at Palmetto Bluff homes
Members of the community enjoy the 15 miles of scenic walking trails, 6,000 acres of natural preserve, a golf course and kayaking on the May River connecting to the Calibogue Sound during their journey. The residents have the luxury of being in close proximity to Hilton Head Beaches and the mild winter climates make it easy to visit the shore year round. A water taxi is on standby to escot Palmetto Bluff members to the beautiful beaches by boat. Members also enjoy the upscale amenities that are often customary at a private gated community.
PALMETTO BLUFF AMENITIES
24 Hour Manned Gated Entrance
18 Hole Championship Golf Course designed by Jack Nicklaus
5,000 Square Foot May River Golf Clubhouse with dining
The Inn & Spa at Palmetto Bluff with heated Swimming Pool
River House Fitness Center and Heated Lap Pool at the Spa
River House Restaurant
Longfield Stables - Full Service Equestrian Center
24 Stall Barn, Covered Arena, Practice Course
Wilson Landing - 80 Dry Storage Boat Slips, Boat Rentals and Outfitters Center
Wilson Lawn & Racquet Club with 8 Har-Tru Tennis Courts & Two Bocce Ball Courts
Wilson Village - RT's Market, Chapel, Shops and Restaurants
Canoe Club & Fitness Center with Jacuzzi and Kiddie Pool
Canoe Club Restaurant
15 Miles of Riding and Walking Trails
6,000 Acre Nature Preserve
Food for the soul is easy to find here at Palmetto Bluff, and more and more Baby Boomers are loving the music, amenities and the charm of the Lowcountry.
Folks interested in Palmetto Bluff can easily arrange a tour with Real Estate Scorecard's trusted colleague Johnny Ussery of Gateway Realty at 843.757.7710.
About Real Estate Scorecard:
Real Estate Scorecard writes unbiased real estate reviews providing in-depth information about popular gated communities in Florida, Georgia, North Carolina, South Carolina and Tennessee, all in an effort to help people discover where to retire in the Southeast.
Website: http://realestatescorecard.com