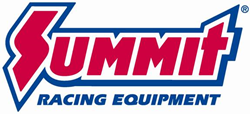 Tallmadge, OH (PRWEB) June 25, 2014
Using a Summit Racing Re-Ring Kit to freshen up an old engine can restore power, reduce oil consumption, and improve fuel economy. Summit Racing assembled the kits with everything required to finish the job without any guesswork, including the rings, rod and main bearings, and gaskets. Kits cost less than 90 dollars.
The Summit Racing Re-Ring Kits are available for the small block Chevy in various rod, bore, and main sizes.
A Summit Racing Re-Ring Kit was featured on part one of the PowerNation Engine Power episode "How to Hotrod a Ford Flathead." WATCH THE EPISODE HERE.
SEE ALL SUMMIT RACING RE-RING KITS.
Summit Racing Equipment
http://www.SummitRacing.com
1-800-230-3030