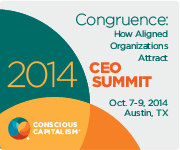 Portland, OR (PRWEB) June 11, 2014
Conscious Capitalism, Inc. CEO Doug Rauch announced that Tony Schwartz, President & CEO of The Energy Project, will lead a special session at the 8th Annual Conscious Capitalism CEO Summit October 7 – 9, 2014 at The Lost Pines Resort outside Austin, Texas.
"Tony's practicums at the 2013 CEO Summit and at CC 2014 in April were huge hits," Rauch remarked, "and his recent New York Times piece entitled 'Why You Hate Work' was the #1 Most Emailed article for days after it was published. We are thrilled that Tony will lead the participants in this year's CEO Summit in a highly interactive plenary session on an exploration of their own energy management practices and into their relationship to their employees' energy, revealing keys to renewing and unleashing both."
Rauch continued, "Last year we were fortunate to have best-selling author/researcher Brené Brown lead the group into an exploration of their vulnerability and courage, which was extremely well received. The Summit participants clearly enjoy sharing rich experiences, which they can then take back to work with them. Tony's session promises to be similarly inspiring."
The Conscious Capitalism CEO Summit is a 48-hour event – convening from lunch on Tuesday, October 7th through lunch on Thursday, October 9th.
Other keynoters include Paul Polman, CEO of Unilever, Andrea Jung, CEO of Grameen America, Steve Ells, founder & co-CEO of Chipotle, Kip Tindell, CEO of The Container Store, and John Mackey, co-CEO of Whole Foods Market.
The program also includes practicums by Dev Patnaik, CEO of Jump Associates & author of Wired to Care (on Innovation), Tom Gardner, CEO of The Motley Fool (on Employee Engagement), Ann McGee-Cooper, author of Being the Change, You Don't Have to Go Home From Work Exhausted, and Time Management for Unmanageable People (on Servant Leadership), Rand Stagen, Managing Director of the Stagen Leadership Academy (on Courage), and Sean Malone, CEO of The Frank Lloyd Wright Foundation with Walter Robb, co-CEO of Whole Foods Market (on Integrity).
The Summit includes significant opportunities to engage in meaningful conversations with a diverse community of inspired and inspiring business leaders from a broad array of industries, from all around the world.
The Conscious Capitalism CEO Summit is open exclusively to CEOs and Presidents of companies with annual operating revenues of at least $5 million.
For more information about the 2014 Conscious Capitalism CEO Summit visit the Conscious Capitalism web site.
###
ABOUT CONSCIOUS CAPITALISM. Conscious Capitalism is a movement dedicated to elevating humanity through business.
Conscious Capitalism, Inc. is a non-profit organization dedicated to cultivating the theory and practice of Conscious Capitalism through events, presentations, publications and social media. We also support an emerging network of Conscious Capitalism Chapters, which serve as communities of inquiry for business leaders, entrepreneurs, coaches and consultants and others.