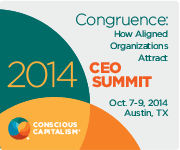 Portland, OR (PRWEB) June 19, 2014
Conscious Capitalism, Inc. CEO Doug Rauch announced that Andrea Jung, President & CEO of Grameen America, will present a keynote on the opening day of the 8th Annual Conscious Capitalism CEO Summit October 7 – 9, 2014 at The Lost Pines Resort outside Austin, Texas.
"We are honored to have Andrea Jung join us at the Summit. Through her work as CEO of Avon and now as President & CEO of Grameen America, Andrea has facilitated access to opportunity for millions of women," Rauch remarked. "Andrea will share insights into the role of leaders in driving alignment and creating a healthy culture, drawing from her experience at Avon and Grameen America, as well as a director at GE and Apple."
The Conscious Capitalism CEO Summit is a 48-hour event – convening from lunch on Tuesday, October 7th through lunch on Thursday, October 9th.
Other keynoters include Paul Polman, CEO of Unilever, Steve Ells, founder & co-CEO of Chipotle, Kip Tindell, CEO of The Container Store, John Mackey, co-CEO of Whole Foods Market. and Tony Schwartz, President & CEO of The Energy Project.
The program also includes practicums by Dev Patnaik, CEO of Jump Associates & author of Wired to Care (on Innovation), Tom Gardner, CEO of The Motley Fool (on Employee Engagement), Ann McGee-Cooper, author of Being the Change, You Don't Have to Go Home From Work Exhausted, and Time Management for Unmanageable People (on Servant Leadership), Rand Stagen, Managing Director of the Stagen Leadership Academy (on Courage), and Sean Malone, CEO of The Frank Lloyd Wright Foundation with Walter Robb, co-CEO of Whole Foods Market (on Integrity).
The Summit includes significant opportunities to engage in meaningful conversations with a diverse community of inspired and inspiring business leaders from a broad array of industries, from all around the world.
The Conscious Capitalism CEO Summit is open exclusively to CEOs and Presidents of companies with annual operating revenues of at least $5 million.
For more information about the 2014 Conscious Capitalism CEO Summit, visit the Conscious Capitalism website.
###
ABOUT CONSCIOUS CAPITALISM. Conscious Capitalism is a movement dedicated to elevating humanity through business.
Conscious Capitalism, Inc. is a non-profit organization dedicated to cultivating the theory and practice of Conscious Capitalism through events, presentations, publications and social media. We also support an emerging network of Conscious Capitalism Chapters, which serve as communities of inquiry for business leaders, entrepreneurs, coaches and consultants and others.