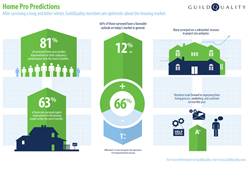 Atlanta, GA (PRWEB) June 10, 2014
After surviving the dark days of the housing crisis and a grueling winter, GuildQuality's latest member predictions report indicates that residential home professionals are optimistic about what's in store for the future. The leading provider of customer satisfaction surveying and performance reporting for the residential construction industry reports 81% of member survey respondents are expecting to see improvement in their company's performance over the next 6 months.
Why the uptick of optimism? As many are heading into their busy season, they're encouraged to see homeowners and buyers investing in larger projects. Many of those surveyed shared that of the emerging trends in their market, substantial projects (size and price) are making a comeback.
Award winning remodeler Abe Degnan, President of Degnan Design Builders, sees larger projects focused on multi-room remodels and additions on the rise.
"During the housing downturn, not only did new home construction slow, but additions to homes all but ended as well. Our clients remodeled inside the existing footprint of their home, but did not expand it," Degnan said. "Now I have three additions in the design process for 2014 and our average job size is increasing again."
General Manager of PCS Residential, Kyle Vorachek is seeing homeowners in both the Indianapolis and Eagan markets focusing on reinvesting in improving their home with less concern about price.
"People seem more willing to spend extra money on their home to really achieve outstanding results," Vorachek stated. "The typical line of reasoning is that as home values recover, they now can recoup and even gain from making new investments in their home."
With business picking up for the majority of respondents, these home pros are now focused on reinvesting in improving their businesses in areas like hiring, marketing, and customer service.
Kathleen Palmer, Online Marketing and Reputation Manager for Arocon Roofing and Construction, views enhancing relationships with homeowners as an investment toward continued business growth.
"Most often, in business, people say that a happy customer is the key to a successful business. Though that's a commendable idea, I believe that the true key to a successful business is a super happy customer. Super happy customers, unlike just happy customers, will take a company to the next level of business," Palmer stated. "They want to see your company succeed and are willing to assist in seeing your goals come to fruition. Super happy customers will post reviews, write testimonials, interact with you on social media, refer their friends, family, and neighbors. They'll even participate in useful surveys that can aid your company in market research."
Since 2008, in an effort to evaluate future trends in the housing market, GuildQuality has gathered insights from the home builders, remodelers, and home services contractors in their network. Click here to view their full findings.
An infographic based on the data from GuildQuality's most recent predictions report is also available here: http://www.guildquality.com/blog/infographic-home-pro-market-predictions/.