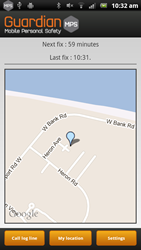 GuardianMPS's system has proven to be reliable and provides our workers with immediate connection to emergency services personnel.
Philadelphia, Pennsylvania (PRWEB) June 11, 2014
GuardianMPS is pleased to confirm that the Division of Family Services (DFS) in the State of Delaware has become the first state-wide agency to adopt its award-winning Mobile Personal Safety (MPS) solution. The GuardianMPS solution effectively transforms a broad range of cell and smartphones into a personal panic/alarm device. With GuardianMPS, the user can call in to enter a start and end time for their appointments. If the user 'overstays' their current appointment, GuardianMPS will contact them to confirm all is well. When a worker is unable to enter a PIN or enters a duress code, then the system moves to 'alarm status'. GuardianMPS can then dial into the phone (while it appears to be off), listen live to what is happening, and advise the police or relevant responders as needed.
Significant risks often exist for workers in child welfare and social service agencies who visit clients daily in their homes. A national survey* confirmed that 58% of social workers in the US have directly experienced violence at work. Delaware's DFS Director Vicky Kelly says the Guardian MPS project provides an additional level of protection and security for her staff.
"Our DFS workers are wonderfully dedicated and committed to helping children. The issues that they deal with however, are complex and challenging. They often engage with clients at the exact moment when they are under great emotional stress. Taking advantage of this technology seemed like a great way to help ensure they remain safe as safe as possible while they carry out this important work."
DFS participated in a three month pilot project. Based on the success of that pilot, the Division has now entered into an annual contract with GuardianMPS, and expanded its use for case workers in the field. Director Kelly added, "GuardianMPS's system has proven to be reliable and provides our workers with immediate connection to emergency services personnel. Having tested the system we found it delivered as promised." Options for expanding the use of this technology include logging in worker activity via smart phones.
-ENDS-
(All trademarks, brand names and copyright fully acknowledged)
Note: Guardian MPS is the US subsidiary of Guardian24, a UK company. Guardian24 supplies solutions to the UK mobile and lone worker sectors and is the acknowledged market leader. The Guardian24 subscriber base now exceeds 33,000 users; with approximately 400 public and private sector organizations benefiting from their services. Among their customers are local governments, healthcare services, housing organizations, central government bodies, educational institutions, charities, banking, insurance and construction. Guardian24 and Guardian MPS services are used via a wide range of devices including the Blackberry smartphone, Apple iPhone, Android smartphone, Windows PDA, basic cell phone or specialist Mobile Worker devices. Visit http://www.guardianmps.com for further company information. For Guardian 24 (UK) visit http://www.guardian24.co.uk. For further information on Guardian MPS please contact Rob Rae on 610-389-7559.
Note: State of Delaware, Division of Family Services. The Children's Department provides services to children who have been abused, neglected, are dependent, have mental health or substance problems, have been adjudicated delinquent by the Courts, as well as prevention services targeted toward all youth. For more information, please visit http://www.kids.delaware.gov.
*Newhill, PhD, ACSW, 2011