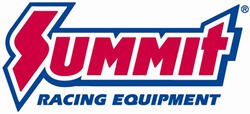 Tallmadge, OH (PRWEB) June 18, 2014
American Powertrain White Lightning shifters feature an adjustable centering bias, which makes them customizable to a particular driving style. There are over 60 possible shift positions.
The shifters' updated design also improves shift quality. The billet core base seals to the transmission housing better and promotes smoother, more confident shifting. White Lightning Shifters use an additional bias spring to improve the second-to-third gear upshift. Plus, the installation job is straightforward and can be completed in about an hour.
American Powertrain White Lightning Shifters are available for Magnum, TKO, T56, and T5 transmissions.
An American Powertrain White Lightning Shifter was featured on PowerNation's Detroit Muscle "Plain Pony to Fastback" episode. WATCH THE EPISODE HERE.
SEE THE AMERICAN POWERTRAIN WHITE LIGHTNING SHIFTERS AT SUMMIT RACING.
Summit Racing Equipment
SummitRacing.com
1-800-230-3030