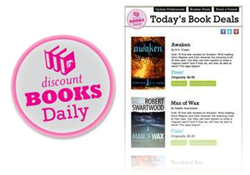 Our growth since our launch has been tremendous. Since March, we've seen a 150 percent increase in members.
Tarpon Springs, FL (PRWEB) June 10, 2014
Discount Books Daily, a book discovery service, announced today they are offering advertising opportunities to a select group of book authors. The company offers a free email subscription service that promotes deeply discounted ebook, audiobook and paperback book deals. Their members receive customized, clutter-free daily emails that feature no more than 20 deals per day.
Discount Books Daily launched in November 2013, curating ebook, audiobook and paperback deals from sites such as Amazon, Audible and Downpour. "Our growth since our launch has been tremendous. Since March, we've seen a 150 percent increase in members. We spent a lot of time attracting members who first and foremost love to read, but who also love a good deal, get excited about discovering new authors, and enjoy sharing their new book finds with friends," said Discount Books Daily co-founder Tina Patterson.
During the past six months, they've proved their decision to offer various book formats is valued by readers. "Our members want choices; they absolutely love ebooks, but that's not the only way they do their reading. We found that 67 percent of our readers enjoy ebooks, 62 percent like listening to audiobooks and 51 percent enjoy reading paperback and hardcover books. While we started with broad categories like general fiction, our readers asked us to expand our categories to include mystery/thriller, romance, action/adventure and teen/YA titles. So there's a lot of opportunity for authors," commented Discount Books Daily co-founder Miles Liedtke.
Before an author is included in a Discount Books Daily email alert, he or she must go through a screening process. The founders say their editors carefully review every submission. "We're interested in working with self-published and traditional authors, but we're picky about the authors we promote. We want to keep the integrity of our discovery tool intact. Our guidelines are strict, but fair. We're looking for professionally edited and/or narrated books with positive reviews and high-quality cover design. Authors also have to be willing to offer their books for at least a 50 percent discount," notes Patterson.
About Discount Books Daily
Discount Books Daily is a book discovery service that helps thousands of readers find their next favorite book. Readers sign up for our newsletter and select to receive daily email alerts on audiobooks, paperback books and/or ebooks in multiple genres. Authors interested in advertising, visit this link and be sure to view the strict editorial guidelines.