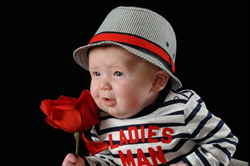 Dr. Horowitz gave us answers when no one else could. We are so thankful he helped us realize our dream of family.
Peoria, Illinois (PRWEB) June 11, 2014
What if your only chance to have a baby was to win a lottery? For many Central Illinois couples dealing with infertility, this is the harsh reality they face.
An estimated 1 million couples need IVF and only 10% of those can afford IVF, which costs upwards of $10,000 and is not covered by insurance. This is why Dr. Gary Horowitz and Sher Fertility Institute created the "Giving Back" program. One aspect of the Giving Back Program includes donating one IVF cycle via a lottery type drawing to a couple who attends one of their seminars around the country.
Couples like Karmann and Ryan Wennerlind. Karmann and Ryan were young, in love and ready to start their family. But infertility dominated their lives.
Over the next eight years, they saw more than 20 doctors and suffered NINE miscarriages. They went through all of their savings but then found Dr. Sher and Sher Fertility. The Wennerlinds received a donated cycle through Sher Fertility and Dr. Sher, who made their dream come true.
Here is an emotional video of Karmann seeing her baby's heartbeat for the first time - http://youtu.be/p0xmUaDEz1Y. Now the Wennerlinds have Baby Kai to fill their lives with joy.
Many Central Illinois couples are still yearning to fill their empty arms and they, like the Wennerlinds, can't afford the treatment.
To meet this need, Sher Fertility Central Illinois, Dr. Horowitz and IVF Pioneer Dr. Geoffrey Sher are hosting an educational seminar on Saturday June 14th. Drs. Horowitz and Sher will host the town-hall type discussion, addressing a variety of topics dealing with infertility, IVF and the biological clock.
In honor of Father's Day and Men's Health Week, Sher Fertility Central Illinois will also be offering free male testing for all couples who attend.
At the conclusion of the seminar, Sher Fertility will donate an IVF IVF Cycle to one couple in the audience. For many desperate couples, this is their only chance.
In the last three years, Sher Fertility has donated more than 100 free cycles at seminars and through other scholarship opportunities at their locations around the country. Many of these winners have gone on to have babies after their IVF Cycle at Sher Fertility.
"Everyone deserves to have access to services that allow them to achieve the basic dream of having a family," said Dr. Horowitz, "One component of this is the knowledge and empowerment to take charge of their own treatment, which we try to provide at these seminars. The other component is the financial aspect. Since many deserving couples don't have the means to pay for treatment out of pocket, we are happy to be able to donate treatment to a number of those couples."
Registration for the June 14th seminar is at http://www.haveababy.com/hope.
Sher Fertility Institute is a national network of fertility clinics specializing in leading-edge technology, personalized infertility treatment, and compassionate reproductive care. SIRM Founder Dr. Geoffrey Sher established the first private In Vitro Fertilization (IVF) program in the United States and is a recognized authority and pioneer in the field of reproductive medicine. Dr. Sher and the institute's other fertility specialists have been influential in the development of dozens of important breakthroughs in the treatment of infertility and reproduction.