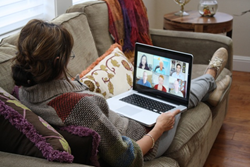 "So many Lionrock Recovery clients tell us they wouldn't get help any other way than online, because they can participate in Lionrock's programs from the privacy of home," said Lionrock Recovery CEO Peter Loeb.
Petaluma, CA (PRWEB) June 10, 2014
To break down the barriers that often stop people who struggle with drugs and alcohol from getting the help they need, Joint Commission-accredited, online addiction treatment center, Lionrock Recovery, provides online substance abuse counseling by secure video conference and mobile Internet application.
Today, Lionrock announces the release of a new video, From the Privacy of Home, designed to increase awareness that "online rehab" is an alternative to less private ways to get help.
"So many Lionrock Recovery clients tell us they wouldn't get help any other way than online, because they can participate in Lionrock's programs from the privacy of home," said Lionrock Recovery CEO Peter Loeb. "But we also know that most people have no idea that professional help with drinking and drug problems is available by high definition, secure video conference. And now that Lionrock accepts most private health insurance, the barriers to getting help are even lower."
The new video introduces viewers anonymously to members of the Lionrock team, who share their stories of struggle. Later, they identify themselves as Lionrock treatment professionals who found recovery, and have now come together to provide care from the privacy of home to others who struggle with addiction. Viewers of the video learn that help from people who understand their struggle is just a click away.
"Technology is part of the message, but even more importantly, we wanted to show viewers that at Lionrock, the team understands the struggle because they've been there themselves," said Vince Beeton, who produced and directed the video. "We want to reach people who feel they have no way to get help, because of their commitments to family and work, and show them that we understand how they feel, and that online treatment from the privacy of home is a real option."
From the Privacy of Home can be found online at http://youtu.be/eoQEllgjkTA.
About Lionrock Recovery
Lionrock Recovery makes getting help for alcohol and drug problems easier by combining serious addiction treatment with the convenience and privacy of online therapy. Lionrock provides addiction treatment and support by secure video conference and smartphone application, and at its local office in Campbell, CA.
Lionrock Recovery's programs are certified by the State of California, and accredited by the Joint Commission (http://www.jointcommission.org), the nation's oldest and largest standards-setting and accrediting body in health care, which accredits over 20,000 U.S. health care providers and facilities. Lionrock is accepted by most private health insurers.
For those struggling with addiction, Lionrock offers treatment at the Outpatient and Intensive Outpatient (IOP) levels of care, and offers an innovative peer counseling program, Base Camp, focused on structure and accountability, appropriate for some people in very early sobriety. Lionrock also offers Family Matters, a program appropriate for anyone with a loved one who struggles with addiction.
Using Lionrock's proprietary mHealth mobile Internet application, the Lionrock App, clients take therapeutic exercises out of treatment sessions and into their daily lives, providing structure and accountability for behavioral change 24/7.
Only a small fraction of the estimated 23 million Americans struggling with alcohol and drug addiction seeks help for their dependency. Well-documented barriers to getting help include the stigma of admitting they have a problem, lack of privacy when getting help, the high cost of treatment, and difficulty finding treatment that doesn't disrupt their lives, whether physical access to treatment programs or enough time to dedicate to treatment.
"Many people now struggling with alcohol and drugs while juggling busy lives don't get help at all because the available options are too costly, too time-consuming, and too public," said Loeb. "Lionrock's online addiction treatment programs can be a great option, delivering high-quality care from the privacy of home."
For its online programs, Lionrock Recovery employs state-of-the-art online videoconference technology, encrypted for security and streamed in high-definition video, to provide an experience that is safe, secure, easy to use, and in harmony with the high standards of Lionrock's clinical practices. To learn more about Lionrock Recovery, please visit: http://www.lionrockrecovery.com.
About Vince Beeton
Vince Beeton, Brand Visualizer, has worked with such blue chip clients as Volkswagen, Audi, GlaxoSmithKline, PG&E, Royal Navy, Kellogg's, and Pfizer, and contributed to programming on major television networks worldwide, including PBS, National Geographic, Discovery, History Channel, BBC and Sky.
He listens for the heartbeat of a brand, and captures its pulse. http://www.vincebeeton.com
###
Contact:
Peter Loeb
Lionrock Recovery
760-994-4990 ext 10