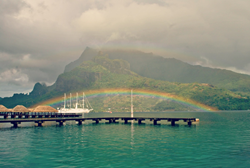 Seattle, WA (PRWEB) June 09, 2014
To celebrate Windstar Cruises' return to the Islands of Tahiti for the first time in more than a decade, the company has partnered with Air Tahiti Nui and Tahiti Tourisme North America to give away a dream trip to Tahiti. The Dreams of Tahiti contest includes a 7-day cruise for two through the Polynesian islands, round-trip airfare from Los Angeles to Papeete, Tahiti, and a one night hotel stay in Papeete, Tahiti. The Dreams of Tahiti Facebook contest runs now through June 13th. Entry to the contest on Windstar's Facebook page can be found here: http://budurl.com/TahitiDreams.
Wind Spirit, one of Windstar's small, graceful sailing yachts, is the perfect way to experience the true wonder of Tahiti. This is the first voyage to premiere Windstar's new Private Events, an exclusive evening of music and entertainment created solely for Windstar guests. The Dreams of Tahiti's Private Event features a dazzling performance by local fire dancers, and a traditional Tahitian barbecue, all happening on a secluded private island or "motu."
Guests sailing on Wind Spirit cruise from one beautiful island after another staying overnight in Moorea, Raiatea, and Bora Bora. Voyage destinations include:

Moorea – the beauty of this unforgettable island of love lies in drama and adventure in breathtaking mountain peaks and serene lagoons.
Tahaa – this fragrant island is known for its abundance of vanilla and offers a glimpse of the traditional tranquil life of the Tahitians.
Raiatea – recognized through Tahiti as the 'Sacred Island,' it also serves as the cultural heart of French Polynesia.
Huahine – known as the Garden of Eden, with lush forests, untamed landscape and quaint villages.
Bora Bora – considered the most romantic island in the world.
For guests looking for adventure, Windstar's comprehensive dive program opens up the best of underwater Tahiti for any level. For those looking for a more intimate experience, Windstar's romance package offers guests a night in a luxurious overwater bungalow with direct access to Tahiti's turquoise waters. The evening also includes a private beachside dinner, followed by an breakfast served the next morning on the bungalow's private deck.
Wind Spirit is currently sailing 28 voyages through Tahiti, with its last cruise scheduled for November 7, 2014, before returning to Panama and Costa Rica for the winter season. Wind Spirit will return to Tahiti in May of 2015.
Click here to read more about Windstar's Tahiti voyage.
About Windstar Cruises:
Windstar Cruises operates a fleet of small luxury cruise ships known for its intimate yacht style experience and unique voyages to the world's best small ports and hidden harbors. Its three recently renovated sailing yachts carry just 148 to 310 guests and cruise to 50 nations, calling at 150 ports throughout Europe, the South Pacific, the Caribbean, and Central America. In May of 2014, Windstar launched Star Pride, the first of three newly aquired power yachts. In May of 2015 the company will launch Star Breeze and Star Legend. The power yachts, with a capacity of 212 guests each, will double the size of Windstar's fleet, making the company the market leader in small ship cruising with 300 or fewer passengers, with a total of 1,242 berths. The additional capacity will open up new itineraries such as voyages to Southeast Asia, Arabia, Iceland, and beyond. Windstar was recently listed on Condé Nast Traveler's prestigious Gold List, coming in as the #3 cruise line in the world.
For more information including rates and itineraries, contact a travel professional or call Windstar at 800-258-7245. Visit Windstar Cruises online at WindstarCruises.com or Blog.WindstarCruises.com. Windstar Cruises can also be followed on its Facebook and Twitter fan pages. Windstar Cruises is part of Xanterra Parks & Resorts, a diversified global travel and hospitality company.
About The Islands of Tahiti:
Easier to travel than often imagined, Tahiti is eight hours by air from Los Angeles with daily nonstop flights. The Islands of Tahiti are halfway between California and Australia, on the same side of the International Date Line as North America and in the same time zone as Hawaii. There are a total of 118 islands and atolls that comprise this beautiful South Pacific country. Tahiti's varied landscape ranges from just-above sea level coral atolls to volcanic mountain peaks. Tahiti is renowned for warm waters, white-sand beaches and stunning turquoise lagoons. Find The Islands of Tahiti on Facebook at http://www.facebook.com/Tahiti TourismeNorthAmerica and Twitter @TahitiTourism. For more information and links to all social channels please visit http://www.tahiti-tourisme.com.
About Air Tahiti Nui:
Air Tahiti Nui links the South Pacific with four continents as the leading carrier to and from French Polynesia, with daily non-stop service to Tahiti from Los Angeles, and is one of only two airlines to offer a selection of non-stop flights connecting Los Angeles and Paris with Tahiti. Air Tahiti Nui has been selected as one of the "World's Best" international airlines by readers of Travel+Leisure in 2011, 2010, and 2008 and as Best Airline in the South Pacific, 2012 and 2011 by readers of Global Traveler. The airline has headquarters in Papeete and operates from Faa'a International Airport on the island of Tahiti. Air Tahiti Nui was founded in 1996 and commenced flight operations in 1998. Air Tahiti Nui is an IATA member and satisfies the highest safety requirements with its IOSA certification. It code shares with a number of carriers including American Airlines, Air France, Air New Zealand, Japan Air Lines, and Qantas. In June 2013, Air Tahiti completed a cabin reconfiguration and enhancement of all its aircraft. http://www.airtahitinui-usa.com
###