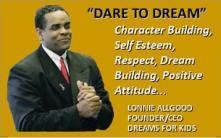 It is our choices that show what we truly are, far more than our abilities.
Voorhees, NJ (PRWEB) June 12, 2014
TURNING STONEchoice (TSC) and Dreams For Kids are committed in guiding children to understand the importance of education and inspire them to become fulfilled individuals in society. Children can be anything they want to be if they dream big, learn how to make self-empowering choices and gain better control over their lives.
Lonnie Allgood's Dreams for Kids is a passionate and committed organization in helping young people reach their potential. The Ten Pillars of Character Building are the core beliefs of Dreams for Kids. There are ten sets of virtues to help stay on track on the road to success.
TSC has been dedicated to working with New Jersey schools like Camden, Pleasantville, New Milford, Paterson, Bogota and Delsea to guide students on the importance of positive choice making, self-awareness, while building self-esteem.
Lonnie Allgood's Dreams for Kids supports The Complete Athlete Expo January 3-4, 2015 at the NJ Convention Center in Edison, NJ. The expo focuses on celebrating the Complete Athlete and providing a forum for their formation http://www.TheCompleteathleteEXPO.com to learn more about this exciting event.