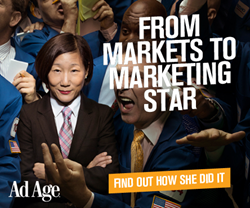 New York, NY (PRWEB) June 09, 2014
Advertising Age, the leading global print and online source of news for the marketing and media industries, has unveiled a new brand campaign—"Without Ad Age." The eye-catching campaign, which depicts well-known industry executives in a tongue-in-cheek manner, was developed and created by integrated marketing agency KBS.
Aiming to inspire a new generation of advertising and marketing talent to join Ad Age's new membership program, the "Without Ad Age" campaign highlights firsthand the key role the brand plays within the industry and in people's careers. Running across print and digital media and on AdAge.com/WithoutAdAge, the campaign features the following executives:

Andrew Robertson, Worldwide CEO, BBDO
Bonin Bough, Vice President of Global Media and Consumer Engagement, Mondelez International
Esther Lee, Senior Vice President, Brand Marketing, Advertising and Sponsorships, AT&T
Seth Farbman, Global Chief Marketing Officer, Gap, Inc.
Susan Credle, Chief Creative Officer, Leo Burnett U.S.A.
The hyper-real, visual campaign depicts industry legends in their very first jobs—as if these executives never pursued a career in advertising and, instead, remained in early career posts, including bartending, teaching and broadcast journalism. The painting-like photos were shot by celebrated photographer Vincent Dixon and show each executive as a fish-out-of-water worker in the job he or she had before joining the ad world, such as Robertson in suspenders behind a bar pouring drinks and Lee in suit and tie on the trading floor. The campaign conveys Ad Age's importance to the industry and points readers to individual profile pages where they will find video interviews with each executive and details on how to join Ad Age's new membership program.
Launched earlier this year, the Ad Age membership program provides members with exclusive access to in-depth content, research reports, special events, and discounts customized to their professional needs.
"Ad Age has always featured smart content that readers find useful and aspirational. Creating a campaign featuring the personal stories of some of the biggest stars in advertising and marketing with highly-stylized images seemed perfectly aligned with our brand," said Allison Arden, VP, Publisher, Advertising Age. "We want current and prospective readers to see the cross-section of players in an ever-changing industry that all rely on Ad Age to help them be successful. We also want them to realize that Ad Age and the benefits of our membership program can be of value as they build their own careers."
Print ads will run in Ad Age and the Wall Street Journal's Northern California, Chicago and Greater New York regional editions. Digital ads and online videos will appear on AdAge.com and Creativity-online.com alongside details of the new membership program. The campaign will be supplemented by Facebook, Twitter, LinkedIn buys, and also in those platforms' Ad Age channels.
About The Ad Age Group
The Ad Age Group is the leading source of news, intelligence and conversation for the global marketing and media community. Ongoing coverage of strategic topics like CMO Strategies and data-driven marketing is complemented by breaking news on digital, social media, and more. The 84-year-old media group incorporates premium content from Advertising Age, Creativity and BtoB, produces more than 15 original rankings each year, and holds exclusive conferences and other gatherings, and offers the most in-depth, comprehensive data and insight services in the marketing and media industry.
About KBS
KBS (Kirshenbaum Bond Senecal + Partners) is the brand agency for an inventive world. We are an integrated creative, advertising and marketing agency committed to inventing the highest value ideas for our clients and ourselves. Today KBS serves a diverse roster of clients that includes American Express, BMW, Harman, HomeGoods, Simmons Bedding Company, William Grant & Sons, Boar's Head and Vanguard. For more information on KBS, a member of the MDC Partners Network, please visit http://www.kbsp.com or follow us @kbsp_agency.