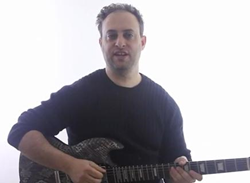 Today I want to give you a lesson in what's referred to as Jazz-Blues
(PRWEB) June 09, 2014
The 1-6-2-5 chord progression is a chord progression built from the first, sixth, second and fifth notes of the major scale.
"Today I want to give you a lesson in what's referred to as Jazz-Blues", says Johnson, "really it's a blues, but jazzed up a little bit." Claude starts off this easy Jazz-Blues guitar lesson by demonstrating the 1-6-2-5 chord progression in the key of A as follows; the one chord is AM7 (A major seven), the six chord is F#m7 (F sharp minor seven), the two chord is Bm7 (B minor seven) and the five chord is Em7 (E minor seven). "Those are always the voicing's for this progression", says Johnson, "We can throw that into the turnaround of a blues progression." Claude continues this easy blues guitar lesson by demonstrating how to do this by playing a traditional blues progression using seventh chords for the one, four and five chords by playing A7, D7 and E7, and then using six and the two for the turnaround with the chord voicing's that he used earlier in the video lesson. Johnson continues by explaining and demonstrating other alternative ways of using this idea in different keys and with different chord voicing's, such as the dominant 13th chord. Claude says that using these combinations of alternate chord voicings creates a melody inside the chord progression that really spices up your playing. Complete guitar TAB's are available for this easy blues-jazz guitar lesson at GuitarControl.com.
Claude Johnson
Claude Johnson, a native of Philadelphia PA, began playing guitar in 1990 after being inspired by players like Jimi Hendrix, Eric Clapton, and Stevie Ray Vaughn. He is the creator of GuitarControl.com and has helped 1000's of people to learn to play the guitar with his critically acclaimed instructional DVD courses, all available at GuitarControl.com
About GuitarControl.com
GuitarControl.com is the leader in modern guitar instruction. It's packed with recourses including articles, video lessons, and the best videos in the business for the beginner to the advanced guitar student taught by the best instructors out there. Weather you are into the blues, rock, jazz, metal, folk, or anything in between, they have you covered.