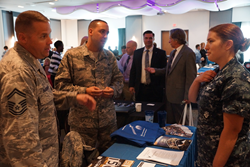 Mount Laurel, NJ (PRWEB) June 10, 2014
The GI Go Fund served as host to nearly 450 veterans and their families, along with 65 employers, colleges, and health care providers at their latest South Jersey Veterans Job Fair on Monday, June 9th, 2014, at the Aloft Mount Laurel Hotel.
Dozens of businesses and organizations participated in the event, including PSEG, UPS, NJ Transit, Pennsylvania State Police, and New York Life.
The organization's previous South Jersey Job Fair in October of 2013 saw more than 400 veterans in attendance, and organizers expected the stronger turnout for this year's event.
Also on hand to meet and speak with the veterans in attendance were NJ Adj. Gen. Michael Cunniff, NJ Assemblyman Troy Singleton, and Burlington County Freeholder Aimee Belgard, each of whom spoke one-on-one with veterans to learn more about the difficulties they endure upon returning home.
Recent unemployment reports from the Bureau of Labor Statistics show that Post 9/11 era veterans are currently suffering from an unemployment rate of 6.8%, which exceeds the national average and is causing significant struggles for returning military veterans and their families.
The event was hosted by the GI Go Fund, a leader in the region in providing cutting-edge services to veterans and their families. They have linked thousands of veterans to various employment opportunities and have helped give them the tools they need to succeed in the job market. They have also assisted countless veterans with going to school and obtaining the health benefits they have earned.
This year, the organization is working to expand health care services to veterans who lack access to VA health care facilities. The organization has already made great strides in working with legislators and VA officials to give veterans in South Jersey the opportunity to alleviate the unfair burdens of obtaining health care they face by giving them the chance to see a private doctor. This includes providing leadership on the recent VA Reform Bill introduced in the Senate, which will give veterans greater access to health care in their area and require more accountability at the department for underperformance and mismanagement.
"The men and women who have served in the armed forces make great employees," said Jack Fanous, Executive Director of the GI Go Fund. "Nowhere else will you find such dedicated and hard-working or disciplined workers. They have been well trained and possess valuable skills that not only make them great soldiers on the battlefield, but outstanding members of the workforce."
The Mount Laurel event also included dozens of colleges and universities looking to enroll veterans who wish to utilize their Post 9/11 GI Bill benefits to earn their degree. Among the universities in attendance were Rutgers University, Thomas Edison State College, Drexel University, and Central Michigan University.
Sponsors and partners for the event included PSEG, Soldier On, and the Department of Housing and Urban Development.