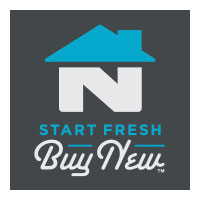 Austin, TX (PRWEB) June 17, 2014
EX2 Solutions, leading marketing technology consultancy and development agency, announced today that it has been honored for its work on StartFreshBuyNew.com, which was named runner-up for best website in the Real Estate Category for the 18th Annual Webby Awards, which took place May 20th in New York City. The site, designed and developed in partnership with Austin-based agency, GSD&M, was created for Builder Homesite, Inc. on behalf of the residential construction industry with the aim of educating home shoppers and promoting the advantages of truly new homes.
Hailed as the "Internet's highest honor" by The New York Times, The Webby Awards are the leading international awards honoring excellence on the Internet on an annual basis. Established in 1996 during the Web's infancy, The Webbys are presented by the International Academy of Digital Arts and Sciences (IADAS) — a 1,000+ member judging body that includes Executive Members comprised of leading Web experts, business figures, luminaries, visionaries and creative celebrities, and Associate Members who are former Webby Award Winners and Nominees and other Internet professionals. Over 12,000 websites were submitted for a Webby Award from over 60 countries.
In an effort to promote new construction and educate consumers of the many advantages of buying a new home over a used home, the StartFreshBuyNew.com website and national campaign launched in 2013. The goal of the website is to increase exposure for new homes in the general real estate marketplace and increase awareness of four key new home advantages: Low Cost of Ownership, Quality Construction, Design, and Energy Efficiency. To accomplish this, the site uses a combination of infographics, videos, image galleries, interactive tools and its responsive design to create an immersive and educational 'sandbox' for home shoppers to explore. The site engaged over 1.5 million home shoppers in 2013 and played a significant role in supporting the impressive rebound in new home sales.
Much of the site's allure is attributable to the cutting-edge user experience and completely dynamic nature of the site. Uniquely, nearly every object is interactive and each action creates a responsive reaction, so that the content actually adapts to the user's behavior, making exploration and engagement virtually endless.
About EX2 Solutions
EX2 Solutions helps businesses tackle critical opportunities with world-class marketing technology solutions for online and mobile-focused organizations and marketers.
Based in Austin, TX, with a second office in Los Angeles, the company's four primary areas of focus include: mobile application and responsive website development, web-based content management systems (WCMs) and interactive retail kiosks for businesses keen on leading today's content-driven mobile technology revolution. It also offers nearshore IT outsourcing solutions via subsidiary, EX2 Outcoding in San Jose, Costa Rica.
For over 10 years, the company has used its skills to help both local and Fortune 500 businesses breakthrough technical and resource challenges to achieve successful solutions. Unlike most technology vendors, its projects are typically fixed cost for development and managed services, enabling clients to effectively plan and budget for new technology. EX2 Solutions was named "2012 Top Web Developer" by Austin Business Journal. For more information, please visit http://www.exsquared.com.