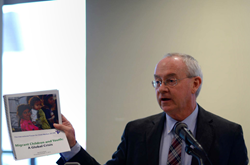 "Children are more likely to fall prey to exploitative transit guides, slavery and trafficking rings, and sexual predators than are adults," states a new report by the International Forum for Child Welfare.
Helsinki, Finland (PRWEB) June 10, 2014
Covenant House Toronto Executive Director Bruce Rivers is leading a panel of international child welfare experts today as they consider a new report outlining the worldwide "epidemic" that is putting millions of migrant minors and youth in the hands of predators.
Rivers, former President and Special Advisor with the International Forum for Child Welfare (IFCW) is attending the three-day IFCW conference and General Assembly meeting in the Finnish capital. Recently, he chaired a committee for IFCW which has produced a key position paper entitled "Migrant Children and Youth: A Global Epidemic" which sheds light on the perils faced by migrant minors (under 18) and youth and makes recommendations to combat the growing problem.
Rivers is a moderator for the two-hour session devoted to the plight of these young people and is joined by Covenant House International Senior Vice President for Latin America, Peggy Healy who is among the panellists.
"Children are more likely to fall prey to exploitative transit guides, slavery and trafficking rings, and sexual predators than are adults," the report notes. "Because of the desperate situations that drive these children from their homes and families, they frequently rely on the whims of the people and forces that carry them to their destinations, sometimes at terrible costs."
Almost 2.5 million minors globally are victims of trafficking as sex slaves, forced labour and domestic servants, according to the report. These children, often fleeing or taken from countries where there is conflict and poverty, find their way to developed countries, including Canada.
The international migration of minors is not an isolated issue; rather, the surging rates of migrant minors, particularly of unaccompanied minors, and the unfettered growth of human trafficking as an illicit industry are indicative of, related to, and precipitate overlapping international crises, the report concludes.
Extreme poverty in developing countries, sectarian strife in divided societies, and gang violence, pervasive crime, corruption and institutional impotence all force minors and youth to travel from their homes or precipitate their internment and enslavement.
Within national boundaries, the report also notes the trafficking of minors is an issue. Countries like Canada "with strong institutions can also have significant internal trafficking problems". It cites a report from UNICEF Canada that says, "organized crime networks are actively trafficking Canadian-born women and children, primarily for the sex trade."
The IFCW's recommendations for international action to help migrant minors and youth include urging countries to extend legal protections and social and educational support services to all migrant minors.
It also wants to see more anti-human trafficking laws and governments, international and regional anti-crime agencies, and human rights organizations pool their resources and share data to more effectively combat trafficking.