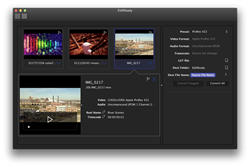 San Francisco, CA (PRWEB) June 11, 2014
Divergent Media today introduces EditReady, its new professional video transcoding app. EditReady provides a blazing fast transcoding engine built for video professionals with tools designed to simplify and accelerate media workflows.
About EditReady
EditReady is the newly released transcoding application for the Mac from Divergent Media, makers of the popular video tool ClipWrap. Designed to be an integral tool for on-set, post-production and finishing workflows, EditReady helps you get from set to suite faster than ever. Built for professional workflows and cameras formats, it sets the new standard for video transcoding performance and simplicity.
"We think of EditReady as the bridge between production and post-production. More and more cameras shoot straight to QuickTime movies, and we wanted a tool for editors to prepare that footage before dropping it into their post workflows. By helping users easily get all their footage into a common mezzanine format like ProRes or DNxHD, we hope to lessen the headaches during the later stages of editing," said Divergent Media CEO Mike Woodworth.
EditReady is the first transcoding tool designed specifically for 21st century post-production workflows, while still allowing users to extract value from their legacy source footage. From cell phones and GoPros to dSLRs and Alexa, EditReady is designed for today's modern media. And a strong roadmap for the future means it'll keep up with the rapid pace of media innovation.
EditReady Features

Speed: EditReady leverages hardware accelerated decode and OpenCL to make it the fastest transcoder on the market. It is as much as 10x faster than competing transcoders.
Simplicity: Featuring a clean and simple UI, EditReady makes the complicated work of building transcode batches fast and friendly. It is designed help you get from set to suite as fast as possible.
Metadata: EditReady's metadata editor lets users view and edit all of the camera and editor metadata associated with a video file. Quickly clean up batches of files, rename clips for edit or add custom data fields.
Batches: Convert multiple batches of files with pre-made presets to create efficient workflows. Quickly transcode footage for web screeners, ProRes editing, or bake in LUTs for dailies. All this can be done through the simple user interface, or through a command line interface for power users.
Pricing
EditReady is available immediately for the introductory price of $49.99. EditReady more info is available at http://www.divergentmedia.com/editready.
About Divergent Media
Divergent Media focuses on providing simple, powerful tools for video professionals. Its ScopeBox represents a paradigm shift in video analysis. Its industry leading rewrap tool, ClipWrap, is a critical component of any Mac HDV and AVCHD workflow. EditReady, its newest tool, provides fast and easy media transcoding for modern video workflows.
For more information on EditReady visit http://www.editready.com.