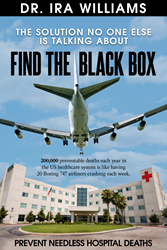 Most legal execution problems are caused by insufficient understanding and distorted facts.
Greenville, SC (PRWEB) June 11, 2014
"It is the most peaceful way to die!" says Dr. Williams. "Useful consciousness is reduced to 60 seconds or less at the equivalent atmosphere of 35,000 feet, and one just peaceably fades into deep slumber. Plus there is no need for drugs of any type."
Dr. Ira Williams, patient safety expert, and author of Find The Black Box, first experienced controlled loss of consciousness as an aviation cadet in a USAF pressure chamber in 1953.
"When I failed to release the 50th playing card in one of the two stacks separated by color at 30,000 feet the chamber instructors kindly reattached my oxygen supply. I had just experienced safely what has caused the accidental loss of too many lives seeking to fly at high altitudes, or climb mountains without supplemental oxygen." Dr. Williams continues, "Most media reports of Stewart's tragedy (http://is.gd/SmonHm), published in USA TODAY (June 9, 2014), erroneously contribute his, and others' such deaths, to a lack of oxygen. Those deaths are due to insufficient pressure necessary for humans to inhale the sufficient amount of oxygen available at high altitudes. Some people have successfully climbed Mt. Everest without supplemental oxygen, but others attempting that goal have paid with their lives."
Dr. Williams goes on to say, "Details of how Payne Stewart's tragic death provides a perfect example of how state's where executions are legal can solve all of their current problems by using a proven method that requires no drugs of any type can be found on my web site's Open Letters (http://is.gd/wdU2CM) page. Reference links are also provided for additional understanding, including my personal, multiple pressure chamber experiences."