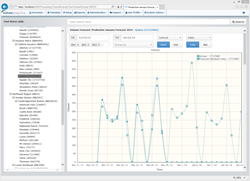 The impact of under-forecasting staff is longer wait times, poor customer service, and lost sales opportunities.
San Diego, CA (PRWEB) June 10, 2014
"Most staffing models do not accurately capture channel migration, so they are continuously playing catch-up in an environment of reduced branch transactions," said Jim DeLapa, CEO of Kiran Analytics. "Use of outdated forecasting methods and tools results in either overstaffing or understaffing. The impact of over-forecasting staff is increased operational expenses. The impact of under-forecasting is longer wait times, poor customer service, and lost sales opportunities."
Forecaster 2.0 software uses Kiran's proprietary, hierarchical transaction forecasting methodology that takes into account the changing needs of customers who come into the branch. Forecaster 2.0 models long term trends and seasonality at the product group level, for each branch. This technique vastly outperforms traditional time-series methods, especially when the volumes of activities are low–as they often are on the platform side of retail banks.
Another major feature of Forecaster 2.0 is the ability to optimize branch staffing for universal bankers and new branch formats. "Retail banks are transforming their branch staffing models and branch formats. They are deploying 'universal' staff to handle transactions, service, and sales activities. They are rolling out express branches. They are creating high-service branches with wealth management, small business, and financial specialists. So, retail banks need modern staff-modeling capabilities that can help capitalize on sales opportunities while hitting target service levels," added DeLapa. Forecaster 2.0 utilizes Kiran's new, patent-pending resource forecasting method that predicts the distribution of sales and service times with far greater accuracy than alternatives.
"Kiran Analytics is delivering really impressive results to their large retail bank clients. Banks that are embracing Kiran's predictive analytics solutions in their branch transformation strategies can achieve an impact of $15,000 or more per branch in annual savings and a 25-35% increase in time available for sales and service," said Gene Kirby, former Chairman of the Consumer Bankers Association.
Resource planning teams using Forecaster 2.0 give high praise to its unique integrated modeling and constrained service level modeling functionalities. Strategic and tactical forecasting functions are integrated in the same model, precluding the misalignment of these two types of workforce planning processes. Constrained service level modeling maximizes service levels for given FTE and forecasted customer patterns. With these innovative modeling functions, Forecaster 2.0 allocates the correct amount of staff levels down to half-hour increments. These new features enable operational efficiency, alignment between resource planning and branch management, and ultimately, successful strategy execution.
Kiran's Forecaster 2.0 powered by CloudCords® is offered as Software as a Service for retail banks that prefer to manage the software deployment with in-house resource planning. Kiran also offers Forecaster as a managed service. All Forecaster 2.0 implementations are delivered and validated by Kiran's solution delivery team, industry benchmarks, ground level intelligence from field studies, and process analysis.
About Kiran Analytics Inc.
Kiran Analytics drives intelligent branch transformation for retail banks through the application of predictive analytics, resulting in increased sales and service effectiveness, and reduced operational costs. Kiran's solutions have been deployed in over 10,000 branches; helping forecast branch staff levels accurately, hire better people faster, and plan and schedule resources efficiently. For more information, visit kiran.com.