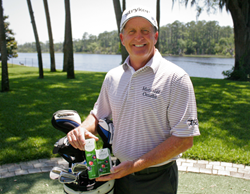 In thirty years of professional golf, I've never seen anything like Top of the Rock golf course anywhere else in the world.
Washington, DC (PRWEB) June 09, 2014
Fred Funk and his partner Jeff Sluman scored an historic victory in team competition Sunday at the Top of the Rock Golf Course near Branson, Missouri. It was the first official PGA Champions Tour "money" event held at a par-3, nine-hole course.
At age 57, Funk uses NOXICARE ™ natural pain reliever by TRUCEUTICALS LLC®, to fight off the aches and pains that come with top-flight play. "NOXICARE is an important part of my game, and I use it before every outing. It helps me stay in the chase without prescription drugs that have dangerous side effects, including addiction," says Funk who now owns nine-career PGA championships.
Funk and Sluman topped the leader board with a 6-under par performance Sunday after rounding the par-54 course in 50 strokes Saturday. On Friday, they played the regulation 18-hole Buffalo Ridge Course with a 61 total, for 11 under par in a "better-ball" game.
For their performance at this Big Cedar Lodge Legends of Golf tournament, Funk and Sluman each enjoyed a $230,000 payday.
The brand new Top of the Rock course offered a technical challenge to match its scenic setting. Etched into a mountain above a pristine lake, the layout follows streams, waterfalls and ponds filled with bass.
"There are no comparisons. In thirty years of professional golf, I've never seen anything like this anywhere else in the world. The amount of money spent to build this, nobody's going to do that. It's unbelievable and really a fun course," says Funk.
"This history-making victory is a fantastic win for Fred. We're proud he's a part of our NOXICARE team and that we're helping him maintain championship-level performance," says Reza Ghorbani, MD, ABIPP, FIPP.
Doctor Ghorbani created NOXICARE and is the president and medical director of the Advanced Pain Medicine Institute of Greater Washington, DC. He is also founder and CEO of Truceuticals LLC, which makes and markets NOXICARE. In addition, he is the author of "Secrets to a Pain Free Life."