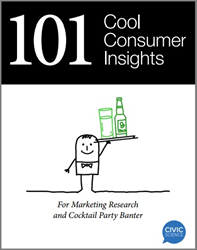 "With all of this powerful and fascinating data in our hands, it would be selfish to keep it all to ourselves." - John Dick, CivicScience CEO
Pittsburgh, PA (PRWEB) June 11, 2014
CivicScience, Inc., the provider of the intelligent polling and real-time consumer insights platform, the InsightStore™, today announced the release of its first-ever e-book titled, "101 Cool Consumer Insights." Just in time for summer reading season, the e-book is available for immediate download for free from the CivicScience website.
101 Cool Consumer Insights is a compilation of various research outputs generated by the CivicScience InsightStore™, which aggregates the opinions of over 27 million anonymous respondents who have engaged in the company's syndicated micro-surveys that cycle through thousands of active questions each day, using automated data science and data mining to cross-tabulate and correlate respondent segments. Over 90% of the respondents are U.S.-based.
In the e-book, readers will see how consumers answered survey questions asking, for example, who are more likely to turn out for a Starbucks happy hour; what consumers think about using credit cards at Target; which brands are favored more among Twitter users; and which casual dining chains have the biggest sports fans. The e-book's insights span topics such as: health and lifestyle behaviors; media consumption attitudes; social media preferences; financial practices; consumer reaction to business news; brand alignments; celebrity sentiment; sports fandom; and more.
"Of all the things I love about working at CivicScience, having this capability at our disposal is near the top of the list. I can't tell you how many hours I've spent just exploring our platform to discover new inspiration for blog posts, client ideas, and small-talk fodder," said John Dick, CEO and co-founder of CivicScience. "Naturally, one of our goals at CivicScience and through this e-book is to show off the depth and breadth of insights in our system. But it's also designed to share useful information with the world. With all of this powerful and fascinating data in our hands, it would be selfish to keep it all to ourselves."
Additional favorite insights from the e-book among CivicScience employees include:

People who say they are much shorter than others are 50% more likely to say they have trouble falling asleep every night or most nights.
Watching TV via online streaming is more likely to be used by 18-24 year olds, women, and those living in the Western U.S.
The list of insights that might help one win more games of Rock, Paper, Scissors.
All of the response data collected by CivicScience is through opt-in polls that run across the company's hundreds of U.S. publishing partner websites, and no personal, identifying information or web browsing history is collected. CivicScience respondents are always kept anonymous, even to CivicScience; respondents must be 13 years of age or older; and only aggregated response data is used in the company's products and services. The survey results included in the e-book reflect the opinions of hundreds of thousands of people collected during the past 12 months. All of the data presented in the e-book has been weighted for U.S. census representativeness by gender and age. No clients, trademark owners, or celebrities have participated in conducting the surveys published in this e-book, and they have not endorsed, approved, or otherwise provided any input regarding the survey results published in this e-book.
To obtain a copy of the e-book 101 Cool Consumer Insights, please visit the CivicScience website here: http://civicscience.com/ebook_101insights.
About CivicScience
CivicScience, Inc. provides the leading intelligent polling and real-time consumer insights platform, the InsightStore™. Its proprietary platform powers the world's opinions and quickly gets that data to the decision makers who care. Every day, CivicScience polls ask millions of people questions related to thousands of topics, while its powerful data science and big data technology analyzes current consumer opinions, discovers trends as they start, and accurately predicts future behaviors and market outcomes. CivicScience polls run on hundreds of premier websites, in addition to its own public polling site at http://www.civicscience.com. CivicScience's InsightStore™ is used by leading enterprises in marketing research, advertising, media, financial services, and political polling.