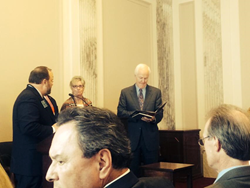 Lubbock, TX (PRWEB) June 11, 2014
There are many reasons that it's great to live in Texas, in fact, there's a long list of reasons. However, when it comes to the economy and real estate market of this grand state, there may be a few facts that could surprise you.
Texas Real Estate Political Action Committee(TREPAC) is an advocate for residents when it comes to protecting the rights of property ownership. The volunteers for this committee use the funds they receive to support the candidates for local, state and federal offices that stand for the preservation of property rights and protecting the real estate profession. TREPAC interviews each candidate in order to have a strong sense of what their platforms are. One of the big issues that TREPAC stands strong on are transfer taxes, a tax that Texas currently does not have. These taxes are added to a home sale on both the buyer and the seller side of the transaction. This tax would force higher costs for all property owners, thus reducing the home they can afford or losing the advantage of home ownership all together. TREPAC continues to fight and defeat the attempts at passing the real estate transfer tax. Just to be clear, TREPAC is no small force. They also make up nearly half of the national Realtors® Political Action Committee with 3.6 million out of 8 million members.
Overall, Texas is a standard that the NAR uses as a guide for how real estate associations perform. With Texas growing at a rate of 1500 people per day, it's no surprise that our markets are doing well. While this is a positive for out economy, there are a few issues. The listing inventory continues to be low, in fact, lower than it was two years ago. Texas isn't the only state with that faces this shortage, it's an issue across the nation. With this growth, however, there is a downside when it comes to our water supply and transportation.
RE/MAX Lubbock was proud to have three of our REALTORS® attending the National Association of Realtors conference in Washington, DC in early May. The state of Texas had 8000 REALTORS® in attendance. At this conference, many of the issues mentioned in this article were discussed, along with many other important industry topics as well as Hill Visits. They are committed to staying up-to-date when it comes to real estate and will take a stand for Texas residents when it comes to protecting private property rights.