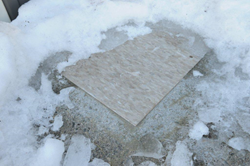 If high moisture flooring failures are adhesive failures... then use a better glue! - the Formulator
Santa Ana, CA (PRWEB) June 11, 2014
Formulators, inventors and manufacturers of the patent pending Aquaflex™ waterproof flooring adhesive, announced that all formulation variants of the Aquaflex™ adhesive have for a second year met the criteria for Collaborative for High Performance Schools (CHPS section 01350) and received the MAS Certified Green® Certificate of Compliance. Additionally, this unique patent pending, part bio-based adhesive meets South Coast Air Quality Management District's (SCAQMD) Volatile Organic Content (VOC Rule 1168) and the USGBC LEED for super-low emitting materials.
"Formulators is again very pleased to receive IAQ certification for Aquaflex. It's simply not enough to provide solutions with innovative chemistry. We must take into account the consequence of that chemistry and how it may impact our environment," said Benny Dickens Founder/CEO of Formulators. "MAS Certified Green® confirms that our development efforts have effectively addressed both challenges."
Aquaflex™ - the first waterproof flooring adhesive is available for VCT, LVT, carpet tile, rubber, quartz, lino and sheet flooring installations. Aquaflex™ is a complete, fully warranted system for installations over concrete with an unlimited moisture level (ASTM F2170 and/or ASTM F1869) and includes proprietary, waterproof patching and self-leveling underlayment materials. The Aquaflex™ Performance Warranty covers demo, flooring, labor and will extend to insure installations that may be subject to topical sources of moisture, a first in the flooring industry.
*See more information about Aquaflex™ by Formulators at http://www.formulators.com.
About MAS Certified Green® - MAS is a global leader in independent certification and emission testing of interior construction products, furniture and furnishings. Over the past decade, MAS has developed an internationally recognized standard and certification program aimed at spurring the highest level of environmental improvements and product performance. The MAS Certified Green® program allows manufactures, specifiers and consumers to bench mark the impact of products to stringent indoor air quality (IAQ) limits specific offices, schools, healthcare, hospitality and residential environments. In addition, conformance with these standards allows end users access to sustainability credits under LEED, CHPS and BIFMA level programs.
*See more at http://www.mascertifiedgreen.com.