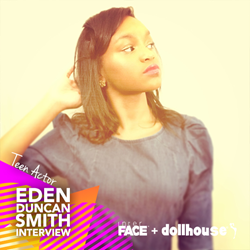 There will be times you may want to give up, but don't give up.
New York, NY (PRWEB) June 10, 2014
The average teen girl is probably just coming down from the high of their first prom, or maybe getting ready for summer vacation fun, but for teen actor Eden Duncan-Smith, her world is very different. It's everything but a hard-knock life for Duncan-Smith, the 14 year-old accomplished actor will be starring in the upcoming "Annie" movie reboot alongside Academy-Award nominee Quvenzhane Wallis. Eden recently took some time out to grant talent marketing company InterFACE's editorial team with an exclusive one-on-one video interview, which took place at popular juniors clothing company Dollhouse Jeans' showroom in Times Square in New York City. In this interview Eden dishes on what it takes to become a successful teen acting star, working with top talent like Cameron Diaz and Jamie Foxx, her style personality, and positive body image with what she considers to be "The New Beautiful."
Eden Duncan-Smith got her start in acting at an early age among some serious star power when she was booked to be in the Tony-Award winning Broadway show "Fences" starring entertainment industry juggernauts Denzel Washington and Viola Davis. The young talent then continued her Great White Way success in the hit Broadway show "Lion King". After several other successful endeavors, Eden was booked to be in the Will Smith produced reboot of "Annie", set to be released December 2014, the film is a remake of the classic musical which follows the life of a very different, yet special orphan girl who befriends a business mogul who ultimately changes her life. This time however, the story takes place in present day Harlem, NY, with "Annie" played by Academy-Award nominee Quvenzhane Wallis (Beasts of The Southern Wild), and "Oliver 'Daddy' Warbucks" is now "Benjamin Stacks" and played by Jamie Foxx (Ray, Dreamgirls). Eden will star as "Isabella", one of the mischievous but lovable orphans living in a ramshackle group home with the disgruntled "Miss Hannigan", a role portrayed by Cameron Diaz (There's Something About Mary, Charlie's Angels). Eden is ambitious off-screen as well, as she is now a feature blogger for Tween Girl Style Magazine, and is a brand ambassador for WAT-AAH! An innovative water brand that encourages teens to be healthier and feel empowered.
Eden's success both on-screen and off is what prompted talent marketing center InterFACE to seek her out for an exclusive interview. Managed by her dedicated and loving mother, Eden personifies a vivacious, grounded, and humble personality that is poised for super stardom. As a company that helps teens create the marketing tools they need to be promoted to top talent agencies, with both child and teen actors that have been requested by agencies and booked in top Broadway shows like "Kinky Boots", to hit TV series like "Boardwalk Empire", InterFACE wanted a chance for a teen acting professional like Eden to offer her advice to their network of over 30,000 aspiring models and actors. "I think InterFACE is doing a great thing for young actors that want to get in the business," Eden advises aspiring teen actors in the video, "There will be times you may want to give up, but don't give up!".
The location for the video interview couldn't have been more fitting, as juniors clothing company Dollhouse Jeans is a brand that is committed to empowering young women through style, a message that aligns perfectly with Eden's outlook on style and body image. "I think the fact that Dollhouse is [launching] 'The New Beautiful' campaign is great, because not a lot of girls think that they are beautiful," Eden states during the interview, "The word ugly is not even a word that's in my vocabulary." Eden also takes some time to talk about her favorite Dollhouse pieces, and how she draws style inspiration from stars like Willow Smith and Kristen Stewart.
Eden is also joined briefly by her friend and personal stylist Anna Drew Culley, a 16 year-old stylist and dancer that is gearing up for her own YouTube channel launch. Viewers will get to see the girls acting silly and having fun as they model Dollhouse clothing for an impromptu photo shoot. Dollhouse will continue to flesh out "The New Beautiful" campaign this summer, which is a customer-based conversation that discusses the brand's trademark "You Are Beautiful" slogan, one that is etched on every pair of the company's jean products. The campaign hopes to celebrate the uniqueness of each and every young woman who is a supporter of the brand, and hopefully eradicate some of the shallow judgment of teen girls that has increased with the rise of social media and media sensationalism regarding "the perfect" female body.
InterFACE and Dollhouse Jeans were happy to get a chance to get to know rising star Eden Duncan-Smith, as she is a prime example of a talented, graceful, and successful young lady, one who any brand would be proud to have the chance to work with. Please click the link to watch the full video interview with this talented teen.