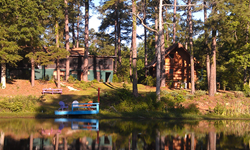 The skills that my daughter learns from camp are more than just hiking, and camping. She learns confidence, and self-reliance that children do not have the opportunity in today's society.
Augusta, GA (PRWEB) June 10, 2014
The beginning of June marks the start of Girl Scout camp season, and with that comes the thought of campfires and s'mores. A recent study of nearly 3,000 Girl Scouts and 2,000 alumnae by the Girl Scout Research Institute (GSRI) reveals that the experience is about much more than camping. Every summer at camp, Girl Scouts of Historic Georgia provides life changing outdoor programs. This is what one parent had to say about sending her daughter to Girl Scout camp, "The skills that my daughter learns from camp are more than just hiking, and camping. She learns confidence, and self-reliance that children do not have the opportunity in today's society."
However, all council camp properties are in critical need of community support for maintenance and upgrades. This year, significant repairs must be made to the Camp Tanglewood pool, which remains closed at the opening of camp season.
Camp Tanglewood is located in Columbia County on 184 acres of hilly woodland, and is a retreat into the wilderness in the heart of the city. From the low ropes course to its lakes and creeks, Camp Tanglewood has something for everyone. Camp Tanglewood was also the recipient of a brand new state-of-the-art log cabin as part of ABC's Extreme Makeover: Home Edition!
Urgent needs for tools and equipment to maintain this property are beyond the council's current budget limitations and in-kind or monetary donations from the
community are needed. Current urgent needs at Camp Tanglewood include:
Cordless drill
Sawzall
Hedge trimmer
Back pack blower
2700 psi pressure washer
Pole chain saw
Pool auto vac system
Log splitter
DR walk behind brush cutter
Bush hog for tractor
Zero turn mower
Volunteers to help with pool repair and with the general care and maintenance of the property are also greatly appreciated.
"It was my first time on the water, in a lake," said a 10-year-old Girl Scout. "I was scared at first but when I started to paddle I got the hang of it. I really loved it."
The GSRI study titled "More Than S'mores: Successes and Surprises in Girl Scouts' Outdoor Experiences" revealed that Girl Scout camp was a favorite experience for most Girl Scout alumnae and that repeated outdoor experiences make girls stronger challenge seekers and better problem solvers. Girl Scout camp provides girls with unique opportunities to try new things, improve skills, overcome fears and help other girls.
At a time when children in the U.S. are more likely to spend most of their summer online indoors rather than outside, Girl Scouts provides a valuable outdoor option. Outdoor spaces support physical play, which helps girls develop movement capability and confidence. Time in nature improves concentration and creative reasoning, and nature provides novelty and challenge, which enhance leadership. One camper recently shared her experience, "I thought being disconnected from the internet and wifi would be hard, but it was actually easy and I had a lot of fun!"
Girl Scout camps throughout Georgia are beautiful properties that will host programs ranging from canoeing to geocaching. Girl Scouts of Historic Georgia owns six camps and leases three others to serve girls from 125 counties. General property maintenance requires a significant investment of time and resources, and recent weather events have multiplied the need for support.
Community support to maintain the beauty and safety of these special properties make the continuation of these life-changing, memory-making programs possible. To learn more about Girl Scouts of Historic Georgia or to make a monetary donation, visit http://www.gshg.org. If you would like to make an in-kind donation or volunteer for maintenance projects at camp, contact Jamey Sprowls, at 706.432.1792 or jsprowls(at)gshg(dot)org.
About Girl Scouts
Girl Scouts is the preeminent leadership development organization for girls in the world. The Girl Scout Leadership Experience encourages girls to discover, connect and take action on the issues most important to them. Girl Scouting builds girls of courage, confidence and character who make the world a better place.