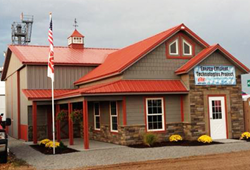 "This project helped to bring affordable, quality housing to a distressed area.."
Graettinger, Iowa (PRWEB) June 11, 2014
Every year SIPA (Structural Insulated Panel Association) honors builders who 'build exemplary projects using structural insulated panels (SIPs). The buildings are judged based on design flexibility, sustainability and energy efficiency. Energy Panel Structures (EPS) had two buildings earn honors this year, a nod to the high caliber of quality expected with EPS buildings.
Koester Construction, an EPS authorized independent dealer was given an honorable mention in the Multi-Family category with his Greystone Homes project. This project helped bring affordable, quality housing to a distressed area of Des Moines, Iowa; replacing abandoned lots or condemned structures. The project was originally designed using tilt-up concrete, but was converted to using SIPs due to cost constraints. EPS's engineers and sales staff worked closely with the Koester and the project designer in order to complete the project using SIPs, making it truly a company-wide project.
EPS also had a building win top honors in the Agricultural division. The show building at the Husker Harvest Days grounds in Grand Island, Nebraska was built by EPS and an EPS dealer, Kunkel Construction. The most impressive aspects of this building are the speed of construction and the energy efficiency of the structure. The building is used to show visitors the impressive cost savings when it comes to heating and cooling, so energy efficiency was extremely important. This project is a combination of SIPs and Post Frame construction and is a great project to show how both technologies can work together.
Structural insulated panels are known for their energy-efficiency and are a proven building product. The panels consist of an insulating foam core sandwiched between oriented strand board (OSB). The panels are manufactured under factory controlled conditions and can be fabricated to fit nearly any building design resulting in a building that is extremely strong, energy-efficient and cost effective.
For more information about SIPs and other products that EPS has offer please visit http://www.epsbuildings.com.