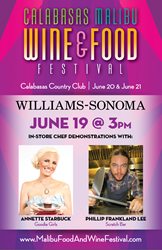 Celebrity Chef Demonstrations at Williams-Sonoma
Calabasas, CA (PRWEB) June 10, 2014
Calabasas Malibu Wine & Food festival has announced that this year guests will have the opportunity to enjoy an intimate gathering to be held at the Williams-Sonoma store in Calabasas, CA. Patrons will enjoy a fun-filled evening of wine pairings and freshly prepared haute-cuisine presented by festival guru Alan Semsar, and hosted by the premiere housewares retailer.
"We are so excited to partner with Williams-Sonoma for this year's festivities," Alan stated. "Our success in raising funds for our charity partners depends greatly on the support of brands that engage the communities we serve. No one is more recognizable than Williams-Sonoma, and by joining forces with them, we are poised to reach a wider audience than ever before."
It is a move that makes perfect sense, as Semsar has been making strides in joining large corporate sponsors with charities for the last decade and there is no evidence that he is planning on slowing down anytime soon.
Celebrity Chef Demonstrations include: Malcolm Mitchell, Annette Starbuck, and Phillip Frankland Lee.
Executive Pastry Chef Annette Starbuck the multi-Award Winning Founder of Goodie Girls, with two locations in Glendale and La Cañada, exuberates a joyous passion for creating a variety of baked delights through her valiant curiosity and enchanting talent. Even more remarkable, aside from countless independent Instructional Culinary Sessions, Annette has never actually enrolled into any institutional Culinary Programs or attended Culinary School, but she's achieved acclaimed success only through her seasoned personal experience and pure creative determination.
Executive Chef Malcolm Mitchell teamed up with Spike Mendelsohn of Bravo's Top Chef on the 1st Kosher Food Truck in Washington, DC and featured Chef at the James Beard Foundation Taste America, The Beverly Hills Wine & Food Festival. He was also invited to the Chinese Culinary Competition in Times Square hosted by New Tang Dynasty to compete against world renowned chefs with traditional Chinese Dishes. Chef Malcolm is no stranger to mass communications he hosted his own radio show "Choppin' It Up with the Chef" on Radio One's WOL 1450 Talk Radio in Washington, DC. Malcolm has been featured in various magazines such as Food Network Magazine.
Executive Chef Phillip Frankland Lee famous for his Chefs Counter style of eating and Scartch Bar a jewel in the city of beverly hills. LA Times raves, "Lee is impressing diners with innovative dishes." "Might Scratch|Bar be the Daily Show of modernist cuisine? Could be! " - Jonathan Gold. An LA native, Phillip Lee attended the Le Cordon Bleu program at the CSCA in Pasadena (where, apparently, he even won a scholarship contest put on by the National Honey Board). After graduating in 2009, he worked at Stefan's at LA Farm, and also staged at Providence. In February 2010, he started at Hatfield's, but would leave in December that year for Chicago. In the Windy City, Lee worked the line at L2O until February 2011, then apprenticed at Alinea and Blackbird before landing at The Park Grill, where he was Exec Sous.
This elegant event will be held at the Williams-Sonoma store in Calabasas on Thursday, June 19, 3:00pm-6:00pm. The evening's festivities will include wine tasting, cooking demonstrations from some of Southern California's best chefs, and the decadent surroundings that personify the Williams-Sonoma brand.
For generations Williams-Sonoma has stood at the forefront of classic home design, lighting the way for all to see the beautiful possibilities of turning a house into a home. From the creative inspirations that decorate their walls to the culinary tools that the modern chef can't live without, Williams-Sonoma is the first place to look for kitchen and house ware essentials. Long recognized for blending elemental classics with modern sensibilities, Williams-Sonoma continues to be a trend-setter and is the leading retailer in quality home products. http://www.williams-sonoma.com
Calabasas Malibu Wine & Food festival is excited to offer guests the chance to enjoy a social event that is centered on the philosophy of living big, and giving big. The night promises to be another inspired pairing as participants are invited to join in the act of giving back as they revel in an evening of fun, food and spirits.