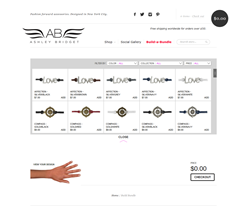 Fort-Lauderdale, FL (PRWEB) June 11, 2014
On Monday, June 3, Ashley Bridget, a fashion-forward jewelry retailer, launched Build-a-Bundle on AshleyBridget.com. Build-a-bundle is a product customization tool that brings the accessory industry into the 21st century.
Build-a-Bundle is a powerful virtual product that allows customers to build a bracelet bundle on a virtual wrist. Using the styles available in the popular Expression collection in addition to some new styles, customers have over 300 bracelets to choose from, varying in color. Each product is selected then constructed on the virtual wrist, allowing for arrangement of the separate bracelets as desired. Customers now have a hand in design, personalizing their bracelets to their specific sensibilities.
"It's an incredibly fun way to shop for accessories," said Scott Hutchison, Vice President at Ashley Bridget. "The platform was built with ease of use in mind, so anyone can quickly and easily choose from our wide array of accessories and build a customized bracelet stack in minutes."
For more information on Build-a-Bundle, visit http://www.ashleybridget.com/pages/build-a-bundle.
About Ashley Bridget
Ashley Bridget embodies the youth, energy, and passion of women all around the world. Being one of the industry leaders in fashion-forward jewelry, we're proud to adorn the bodies of the most stylish and trend-setting women. Outstanding quality and a serious focus on customer care is the key to our success. Every Ashley Bridget piece of jewelry is individually crafted, making every piece unique. Our team prides itself on using only the finest quality materials and craftsmanship, and will never settle for anything less.
Follow us on Twitter @AshleyBridgetCo.
Like us on Facebook.