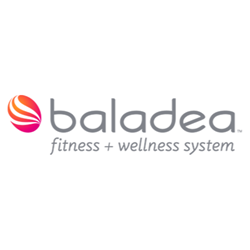 Beverly Hills, CA (PRWEB) June 10, 2014
The new baladea fitness + wellness system by celebrity trainer Holly Perkins draws on cutting-edge weight-loss research that shows wellness and stress reduction, together with fitness training, significantly improve and speed weight loss.
"I developed Synergy Training to strategically fuse fitness and wellness exercises, incorporating all of the factors that go into looking and feeling great into one program," says Perkins. "Working on fitness and wellness at the same time changes the body more effectively so women see results much faster, and at the same time, they feel amazing."
baladea – "bala" for balance and "dea" for goddess – has officially partnered with New Balance, whose commitment to promoting health and fitness in the United States aligns with baladea's mission of helping women to live happier and healthier lives.
"It's all about making your true self shine," says Perkins.
The complete home exercise system, available at http://www.baladea.com, features eight DVDs, including an introduction and seven unique Synergy Training workouts. For each exercise, three levels of modification are offered, beginner to advanced, to accommodate every fitness level.
Users can further customize their workouts by choosing from three unique 11-week routines, each presented in an easy-to-follow calendar format, to reach their own personal goals. There's a "look" routine for maximum weight loss; "feel" for complete well-being wellness; and "mini" for minimum time investment.
"Everybody is different, with different lifestyles, goals and fitness levels, so a customizable solution is the key," Perkins says.
baladea also features a nutrition guide designed by internationally recognized nutrition experts and media personalities Drs. Kara and Chris Mohr. The guide puts an end to calorie counting and complicated nutrition rules, instead introducing an easy-to-follow nutrition system. It also includes 60 simple recipes and many useful tools, such as a Restaurant Survival Guide and tips to eliminate cravings.
A separate lifestyle guide offers Perkins' personal success secrets for maximizing results and staying on track. The kit also comes with a premium resistance band and equipment bag and free access to the baladea online community for extra motivation and support.
"Women should be able to get results in the shortest time possible; baladea works for real women with busy lifestyles who want to look and feel great," says Perkins, one of the nation's leading fitness/wellness experts and a trainer to countless celebrities, professional athletes and everyday women.
The baladea DVDs, designed for individual workouts or for pairing up with a partner for even more fun, feature:
"Hello" – introductory overview with tips for getting breakthrough results
"Boost" – dynamic high-intensity interval training to maximize weight loss
"Power" – next-generation strength training to build your fat-burning engine
"Slim" – an energetic workout that melts fat and reveals beautifully toned muscles
"Fusion" – a cardio-yoga fat-burning combo
"Yoga" – next-level yoga practice that reshapes trouble zones
"Flow" – optimizes flexibility and beautifies posture
"Calm''– energizing relaxation blended with powerful motivation techniques
"The baladea program completely reinvents how we exercise," Perkins says. "I wanted to create the perfect weight-loss solution that takes care of everything for you for easy results, yet can be easily customized.
"This is like having a personal trainer in your living room, working on what you want to achieve."
About baladea
The result of more than 15 years of research and experience by weight-loss expert Holly Perkins, baladea (http://www.baladea.com), is a customizable fitness and wellness system for women. Perkins holds a bachelor's in Exercise Physiology, and is a Certified Strength and Conditioning Specialist (CSCS), one of the most prestigious certifications in the industry. She believes that making fitness a fun lifestyle is the best way to achieve true change. As one of the nation's leading weight-loss experts and a highly sought-after celebrity trainer, she has been featured in numerous magazines, newspapers and on national TV shows.