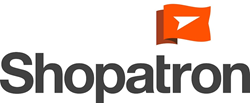 San Luis Obispo, CA (PRWEB) June 10, 2014
Shopatron, the world's leading provider of cloud-based distributed order management solutions, today announced the release of a free inventory visibility API, unveiled for the first time at the 2014 Internet Retailer Conference & Exhibition (IRCE) in Chicago.
Shopatron Retailer Inventory Lookup is a cloud-based solution that not only offers enterprise-wide inventory visibility, but also provides retailers with actionable analytics to improve in-store operations, stocking, merchandising and product marketing. The solution enables retailers to deliver a best-in-class shopping experience – instantly connecting customers with local, available inventory, and furthering the Shopatron mission of allying online and offline channels.
Powered by Shopatron's lightweight and flexible APIs, Inventory Lookup is easy to integrate with nearly any eCommerce platform in a matter of hours, allowing retailers to adopt omni-channel functionality and reporting without spending months of development time and money. Now, any retailer can leverage the cutting edge tool that's already helping trailblazers like World Market succeed in the omni-channel marketplace.
Shopatron Retailer Inventory Lookup is the only free inventory lookup solution that empowers store merchandisers and associates with channel agnostic tools for analytics at the store level, allowing proactive insights into customer demand.
With Inventory Lookup's extensive reporting capabilities, retailers are not tethered to historical store sales data for inventory planning. Armed with a comprehensive suite of real-time, actionable insights, retailers can rapidly optimize store inventory, reduce inventory carrying costs, accelerate inventory turn and improve geo-targeted product marketing.
The solution's intuitive dashboard makes it easy for store-level merchandisers and employees to analyze data in several views, including visual trend lines and graphs based on location, date ranges, SKUs or product families, in addition to customized views in any third-party reporting system through an API connection.
The new product will first be unveiled at Shopatron's own IRCE event, Cocktails in the Clouds, on Tuesday, June 10 from 7-9 p.m., and will be available June 10-12 at booth #2006.
A pioneer in the omni-channel movement since 2001, Shopatron is the retail industry's first and only distributed order management solution to release free APIs for retailers, making it easy for customers to find the products they want, and drive spend-ready foot traffic into local stores. Retailers using Shopatron's omni-channel order management platform grew 71% in Q1 2014 year-over-year, over four times the growth of the Top 500 store-based chain retailers as reported in Internet Retailer's 2014 Top 500 Guide.
"In an age where over a third of customers are unlikely to visit a store if they can't check inventory online, Inventory Lookup is a must-have," says Shopatron Founder & CEO, Ed Stevens. "Shopatron's new tool leverages trending consumer behavior with advanced reporting capabilities that, for the first time, offer store merchandisers unparalleled views into their business from an online shopper's perspective."
Key features of Inventory Lookup include:
● On-hand inventory tracking: Sell deeper into inventory and lower safety stock levels with confidence in inventory accuracy.
● Unlimited locations and sales channels: Display accurate inventory from locations across all sales channels: in-store, website, third party sites, mobile and call centers.
● Seamless API integration: Activate local inventory lookup within existing eCommerce shopping workflow, with zero disruption to existing systems and processes.
For more information on Inventory Lookup, visit Shopatron in the IRCE Expo Hall at booth #2006, June 10-12 at McCormick Place West in Chicago. Click here to register for Shopatron's Cocktails in the Clouds event on Tuesday, June 10 in the John Hancock building.
For more information, visit eCommerce.Shopatron.com.
About Shopatron
Shopatron is the world's leading provider of cloud-based order management solutions. Powered by the patented Shopatron Order Exchange, Shopatron Retailer allows multi-channel retailers to seamlessly leverage the available inventory of every retail storefront and distribution center when fulfilling online orders. Unlike legacy order management software or custom-built solutions, Shopatron makes it easy and affordable to deploy advanced capabilities like in-store pickup, ship-from-store, inventory lookup and vendor drop-ship within existing eCommerce initiatives. With Shopatron, online and offline channels join forces to increase sales, turn inventory, and deliver a superior purchase experience to online shoppers.
Shopatron Media Contacts:
Alex Lorton
Shopatron, Inc.
(805) 269-5380
pr(at)shopatron(dot)com
Catherine Seeds
Ketner Group PR & Marketing
(512) 794-8876
Catherine(at)ketnergroup(dot)com