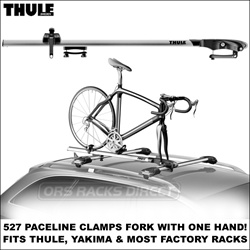 Barre, VT (PRWEB) June 10, 2014
A beautiful day on the trail or in the water won't wait while you get ready, so a quick and worry-free carrying system for your outdoor equipment is essential. That's why ORS Racks Direct is happy to announce that they are now carrying several outstanding new watersport and bike rack products from Thule Racks to help you get out riding and paddling ASAP: the Thule 819 Portage canoe system, Thule 811 SUP Shuttle mount, and Thule 527 Paceline fork-mount bicycle rack.
"Thule Racks has been an industry leader in premium car rack products for decades," says ORS Racks Direct Consumer Relations and Sales Coordinator Catherine Case, "and these new bicycle, canoe, and SUP board-surfboard carriers continue the Thule Racks long tradition of innovative rack systems that fuse impressive performance with ease of use. The 527 Thule Paceline bike rack is particularly convenient, thanks to the auto-clamping precision dial fork head that allows you to load and unload your bike using just one hand. The 811 Thule SUP Shuttle combines value with a smart telescoping design to customize the rack to your stand-up paddleboards, windsurf boards or surfboards, while the 819 Thule Portage fills a gap in the canoe rack category by offering shaped canoe brackets for easier loading and universal mounts that fit both aftermarket and factory cross bars—a handy feature that has been difficult to find in many previous racks."
The 527 Thule Paceline rooftop bike rack (http://www.orsracksdirect.com/thule-527-paceline-bike-rack-roof-carrier.html) is equipped with an ergonomic and automatically-clamping precision dial that makes it easy to clamp your bike fork in place one-handed while offering the perfect amount of pressure to keep the bicycle snug and protected. The Paceline also features a sleek, durable aluminum tray, a high-wall rear wheel cradle with ratcheting strap to hold the bicycle securely in place, and universal installation brackets that fit round, square, or factory roof racks.
The 811 Thule SUP Shuttle surf rack (http://www.orsracksdirect.com/thule-811-sup-shuttle-stand-up-paddleboard-rack.html) introduces a stand-up paddleboard carrier that offers the protection and versatility of previous Thule SUP racks in a more modestly-priced package. The SUP shuttle fits most styles of watersport boards, like standup paddleboards, windsurf boards, or surfboards, and includes the Thule Racks all-in-one FlipFit mounting brackets that fit round, square, aero, or factory cross bar styles alike. Also included are front and rear telescoping SUP pads that offer weather-resistant padding and easily adjust to fit different board widths, and padded load straps to secure the board to the roof rack.
The 819 Thule Portage canoe carrier (http://www.orsracksdirect.com/thule-819-portage-canoe-rack.html) becomes the easiest, universal canoe rack to load in Thule's watersport category, featuring four padded weather-resistant load stops that are ramped to slide boat gunwales simply and quickly into place on the rack; universal FlipFit hardware that is compatible with almost any shape of roof rack cross bar, from standard round, square, or winged, to factory bars; cross bar straps with padded buckles to prevent scratching; and bow and stern tie-downs to fully secure the boat in place on the rack.
About ORS Racks Direct
ORS Racks Direct is a closely held enterprise focusing on complete sales and service of car and truck rack systems, representing the industry's most respected manufacturers, including Thule Racks, TracRac truck racks, Yakima and Whispbar Racks, Malone, ProRack, RockyMounts, Saris, SportRack, Inno, CURT trailer hitches and more. The company provides high quality transport solutions for automobile cargo roof box, gear basket and rooftop luggage bags, snowboard-ski racks, canoe-kayak racks, stand-up paddleboard SUP-surfboard racks, bike racks, canoe-kayak trailers, receiver hitches, baby jogger and baby stroller child carrier transport systems and more. ORS Racks Direct markets and sells products through multi-channel outlets that include warehouse showroom, phone sales and internet. Please visit (http://www.orsracksdirect.com/thule-racks.html) for complete information on all new 2014 Thule Racks products.