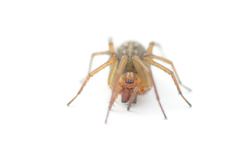 St. Louis, Mo. (PRWEB) June 10, 2014
Moving into the summer months, it is becoming especially important that homeowners are taking the necessary steps to keep their homes clear of spiders and other summer pests. With the warmer weather, spiders will become much more active in seeking out cooler locations such as the inside of a home. They are seeking sources of water and to get out of the heat. Brown recluse spiders, especially dangerous, can become more active in the home this month. There are some simple steps which can be taken to make sure that a home is well cleaned and prepared to prevent pests and spiders from seeking refuge inside.
One of the simplest ways that homeowners can clean the inside of their homes to maximize pest prevention is to clean out all the places where food is stored, such as cabinets and fridges – including crumbs and uncovered food items. As the air gets warmer and water becomes more scarce, many bugs and spiders will seek alternative sources of moisture. Any food which is left out on counter tops or in cupboards will attract the attention of local pests. Make sure that food is kept in sealed environments so that it will not tempt pests into entering the home.
Removing the clutter from the inside of the home is another step which can be taken to help prevent pests from moving in. By removing unnecessary clutter, homeowners will be much more likely to spot any potential points of access that could be used by spiders or other pests to enter the home. Upon the discovery of any holes or cracks, it is best to fill them so that the moisture and heat will not be able to move through them.
Making sure that there is no stagnant water anywhere inside or outside of the home is one of the most important pest prevention tips for any homeowner this summer. As the environment becomes more hot and humid, any stagnant water will attract a multitude of pests. Checking behind common appliances as well as in bathrooms, kitchen, and potentially beneath the house will help prevent pests from entering the home this summer.
By following these simple tips home owners can clean their homes and prevent pests from infiltrating this summer. As insects become more active in their attempts to move indoors it is important to take the necessary preventative measures to protect the home and the health and safety of the residents who live there. For effective pest control in St. Louis, schedule an appointment with the professionals at Mick's today, click here: http://www.micksexterminating.com/contact/.