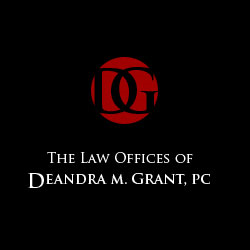 Collin County, TX (PRWEB) June 09, 2014
Collin County Criminal Defense Attorneys Deandra M. Grant and Laura Buehner from The Law Offices of Deandra M. Grant, PC were voted by their peers for inclusion in the 2014 list of "Dallas' Best Criminal Defense Lawyers." The names of the honorees were posted on the list's *blog. Attorney Grant was selected as one of the top 16 criminal defense lawyer in Dallas County for felony drug offense cases, one of the top 10 for misdemeanor cases and one of the top 10 for DWI cases. Attorney Buehner was one of just six attorneys to be voted a "Star on the Rise."
According to the list's blog, the final list was compiled after weeks peer nominations and voting by other attorneys. The finalists were chosen by case type, with the categories including the following: murder/aggravated robbery, felony drug offense, felony sex crime, felony, misdemeanor, federal/military offense, family violence, DWI, appeal, crime with defendant suffering from a mental illness and offense as a juvenile. The list also included "Star on the Rise" honorees.
Attorney Grant is a seasoned criminal defense attorney who has received top honors within the legal industry for her excellence in the practice of law. In addition to being named among "Dallas' Best Criminal Defense Lawyers" for 2013 and 2014, she has also been repeatedly selected as one of D Magazine's "Best Lawyers in Dallas," she has been repeatedly included in the Texas Super Lawyers® list and she has been recognized as one of Texas' Top Rated Lawyers for two years in a row. Furthermore, the attorney has been given an AV Preeminent® rating, which is the highest of the Martindale Hubbell® Peer Review Ratings™. Attorney Grant, who has experience as both a defense lawyer and a prosecutor, has various certifications that demonstrate her advanced training in DWI testing and forensic chromatography.
Attorney Buehner is more than eight years of experience practicing law. Ms. Buehner practiced family law for three years before switching her focus to criminal law. With that transition, she worked as a prosecutor in Dallas for one year and then moved into the practice area of criminal defense. Ms. Buehner has a Juris Doctor from Southern Methodist University's Dedham School of Law and a Bachelor of Science in Legal Studies from Newbury College in Boston (with a double minor in political science and English). Attorney Buehner is a member of multiple professional organizations in Dallas, Collin County and the state of Texas.
The Law Offices of Deandra M. Grant is a criminal defense law firm that serves clients in Dallas, Collin and Tarrant counties. The law firm has been providing clients with aggressive defense for two decades. Attorney Grant and her legal team provide defense in DWI cases and a wide array of other criminal cases. More information about The Law Offices of Deandra M. Grant is available at http://www.texasdwisite.com.
*http://bestlawyersindallas.blogspot.com/2014/06/the-2014-list-of-dallas-best-criminal.html