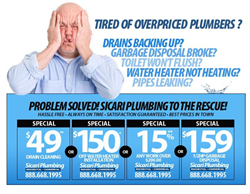 Montrose, California (PRWEB) June 09, 2014
It's cold outside, but that's no excuse to take cold showers. And to help people bathe in water heated to perfection, Sicari Plumbing is now offering $150 discounts on hot water heater installations in Montrose, the San Fernando Valley and all of Southern California.
Sicari Plumbing handles residential and commercial repairs of all shapes and sizes from replacing sewers to copper re-piping and kitchen and bath remodeling. Current discount specials include $49 for drain cleaning, $159 for a ½ HP garbage disposer, $150 off water heater installations, and 15 percent discount on any work over $200.
Sicari Plumbing has been a leading Pasadena plumbing contractor for more than 30 years and has established a rock solid reputation for their quality of work and unmatched expertise, first-rate customer service, guaranteed on time 24-hour service, and the lowest prices in town. Customers save money and are fully satisfied when they call upon Sicari Plumbing, servicing the San Gabriel Valley, Pasadena, San Fernando Valley, and Santa Clarita areas.
"We have a staff of plumbers that take pride in their work," owner Joe Sicari said. "That means customers can only expect the best from us! When our plumbing technicians meet with them at their homes, they are willing to listen and offer advice. Our services are competitively priced for small and large jobs alike. We're skilled in all types of plumbing projects, from small plumbing repairs to large new construction and remodels."
Service appointments or inquiries can be made at (888) 668-1995 or on line at http://www.sicariplumbing.com.