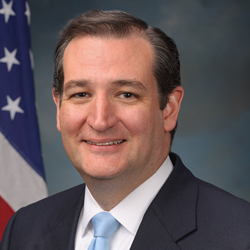 San Antonio, TX (PRWEB) June 11, 2014
On Friday, June 27th, the San Antonio Chamber of Commerce will host US Senator Ted Cruz for a "State of the Senate" luncheon at the Embassy Suites Riverwalk from 11:30 – 1 p.m.
Known as a staunch conservative, Cruz was elected in 2012 as the 34th U.S. Senator from Texas. An advocate for limited government, economic growth and the Constitution, Cruz won a decisive victory in both the Republican primary and the general election, despite having never before been elected to office.
In the Senate, Cruz serves on the Committee on Commerce, Science, and Transportation; the Committee on Armed Services; the Committee on the Judiciary; the Special Committee on Aging; and the Committee on Rules and Administration.
Before his election to the Senate, Cruz served as the Solicitor General of Texas, the State's chief lawyer before the U.S. Supreme Court. Serving under Attorney General Greg Abbott, Cruz was the nation's youngest Solicitor General, the longest serving Solicitor General in Texas, and the first Hispanic Solicitor General of Texas.
In his private practice in Houston, Cruz spent five years as a partner at one of the nation's largest law firms, where he led the firm's U.S. Supreme Court and national Appellate Litigation practice. Ted has authored more than 80 U.S. Supreme Court briefs and argued 43 oral arguments, including nine before the U.S. Supreme Court.