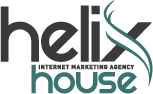 A blog is a useful and effective tool that can help drive traffic to a website and attract search engines with specific keywords.
Tucson, AZ (PRWEB) June 26, 2014
Helix House, a company that is well known in Internet marketing circles, has recently announced a growing demand for its web development services. The company has consistently provided high quality web development services to businesses looking to increase their overall online visibility and exposure. Helix House believes, and research has shown, that website design is important, but having the proper website features is even more critical. For example, studies have shown that multimedia presentations can be far more effective at capturing the interest of visitors then written text. From audio files to Infographics and videos, multimedia can play a vital role in the overall success of any online business presence. Infographics are especially useful in that they provide clear visualization of a wide range of data and information in graphical form. These creative and clever graphical representations of data and information can get a marketing message across in a single glance.
Equally important, according to Helix House and much research, is the benefits associated with a blog that is designed to attract target customers. A blog is a useful and effective tool that can help drive traffic to a website and attract search engines with specific keywords. When quality content is combined with targeted keywords in a given industry through a blog, the end result can be quite astonishing. Search engine spiders typically scour the Internet looking for new and useful information with regard to specific keywords. These spiders are often partial to quality content found in blog posts that includes a few specific and highly targeted keywords. This combination of quality content and targeted keywords when positioned properly in a blog post can result in greatly increased traffic.
Helix House co-founder Alona Donato has been quoted as saying that the company is dedicated to helping businesses achieve their online marketing goals through a wide range of services including website development. Helix House knows the importance of a properly designed website and blog that is used to attract greater interest in a website. Other important features that should be core components of any website today include social media integration, clear and easy to distinguish e-mail sign-up forms as well as highly effective real-time customer support options. Businesses that fail to seize the opportunities available through proper website development may be missing out on a huge amount of organic search engine traffic. Helix House looks at all aspects of website development including website design and the inclusion of essential website features as a way to ensure that businesses get the most out of their online presence. Internet marketing and Internet advertising that includes quality website design intended to entice search engines is what businesses should expect from a great Internet marketing firm. Helix House is happy to report this growing interest in web design and development as it continues to grow and expand.
Helix House is a highly innovative forward-looking Internet marketing agency located in sunny Arizona and beautiful New Mexico. The company has consistently exceeded industry expectations to routinely rank highest among some the best Internet marketing companies in the country. Recognized as an industry leader this Internet marketing firm has helped hundreds of businesses across the country to gain better online ranking.