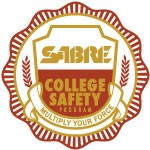 St. Louis, MO (PRWEB) June 10, 2014
In the wake of the tragedy at Seattle Pacific University on June 5, 2014, where one student lost their life and three others were injured, SABRE would like to extend our deepest sympathies to the families involved. According to news sources and eye witness accounts, a student security guard was able use pepper spray to subdue the shooter preventing further violence.
Attacks on our schools are occurring with more frequency. Pepper spray, a non-lethal tool, has the ability to deal with attackers quickly and effectively. The Seattle incident serves as another unfortunate incident highlighting the need for pepper spray, other security products and training to help protect our students. SABRE is the number one pepper spray used by police forces worldwide and to date over 4,500 police officers have been certified as SABRE Instructors.
In addition to the problem with school shootings, one in five college females fall victim to sexual assaults. SABRE's College Safety Program provides techniques to help discourage potential threats and protection techniques to help students protect themselves against an attacker giving them an opportunity to escape to safety. This Fall Marisa McKay, Program Manager of the Personal Safety Academy, will travel to college campuses around the country to offer SABRE's safety presentation to help increase the safety of our students.
For more information on SABRE products, and to help secure your school against sexual assaults and crime on campus, contact Marisa McKay at mmckay(at)sabrered(dot)com today.