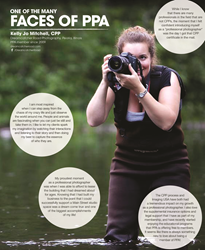 Seeing my profile in Faces of PPA is a great little reminder of why I am in this line of business.
Atlanta, GA (PRWEB) June 10, 2014
Almost a year ago, Professional Photographers of America (PPA) launched its "Faces of PPA" series to highlight the diversity of its members. In addition to the greater awareness it gained for PPA members, the promotion also encouraged exposure for the photographers' personal businesses and qualifications.
Since the initiative began, over 200 photographers stepped in front of the camera to talk about why they became a photographer and joined PPA. Their submissions are shared on PPA's website (PPA.com/FacesGallery), our PPA Facebook's page and on Google+. One member is featured each month in Professional Photographer magazine, the official publication of PPA.
From creative portraits to shots in action, the pictures are unique to the photographer's style and expertise, and represent their professionalism. Members were quick to share their submissions with their friends and clients on social media and their websites and some even printed their profiles to use in their print marketing.
"Seeing my profile in Faces of PPA is a great little reminder of why I am in this line of business," said Sarah LaRue Bowers, a professional photographer from Massachusetts, who immediately shared the picture with her followers on Facebook.
"The response has been great!" said Carla Plouin, director of marketing and communications for PPA. "The goal of the campaign is to show off the diversity among the photographers who belong to PPA and provide them with nice little extra pieces for their marketing. It's an engaging way to show that old and young, accomplished and novice, all of these people make PPA who we are. We're all in this quest together to raise both, the bar in photography, and the profile of professional photographers in general.
"There is no deadline whatsoever for Faces of PPA," reiterated Plouin.
To participate, PPA members can find the submission form at ppa.com/faces.
About PPA
Professional Photographers of America (PPA) is the largest international non-profit association created by professional photographers, for professional photographers. Almost as long-lived as photography itself, PPA has roots that date back to 1869. It assists close to 27,000 members through protection, education and resources for their continued success. See why photographers love PPA at ppa.com.