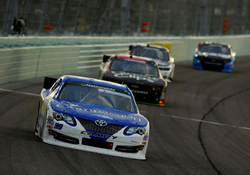 Through this partnership, the lives of children in poverty will be forever changed.
Colorado Springs, Colo. (PRWEB) June 12, 2014
Colorado Springs-based Compassion International is partnering with NASCAR Nationwide Series driver Blake Koch for this weekend's Ollie's Bargain Outlet 250 at Michigan International Speedway.
Koch will be driving the No. 44 TriStar Motorsports Camry in the race on Saturday, June 14th. Compassion Racing will serve as the primary sponsor for the car.
"We are excited to be back on the track with Blake behind the wheel," says Mark Hanlon, Compassion's senior vice president of global marketing and engagement. "Through this partnership, the lives of children in poverty will be forever changed. And we know that Blake's life is changed too. His heart for the poor is growing and his willingness to share that message with race fans is changing hearts too."
Koch has three previous starts at Michigan International Speedway in the Nationwide Series. With an average start of 25.7 and an average finish of 27.7, Koch is eager to get back behind the wheel of the No. 44 Toyota Camry next weekend.
"There are a few things God has called me to be," said Koch, "First and foremost, I am called to be a loving husband and father to my family. And God has graciously given me the gift of racing as a platform. But He's also called me to speak up for children in poverty around the world. By partnering with a life-changing ministry like Compassion International—and sponsoring three children myself—I am able to fulfill that important calling."
The race will be televised on ESPN at 1:30PM ET on Saturday, June 14th. For more information on the partnership, visit compassionracing.com.
###
Compassion International is the world's leading authority in holistic child development through sponsorship. Compassion revolutionized the fight against global poverty by working exclusively with the Church to develop children out of poverty to become responsible, fulfilled Christian adults. It is the only child sponsorship program to be validated through independent, empirical research. Compassion partners with more than 6,200 Christian churches in 26 countries to release over 1.4 million babies, children and students from poverty in Jesus' name. Compassion has been awarded the highest rating for financial stewardship and transparency for 13 consecutive years by Charity Navigator, America's largest charity evaluator. For more information on the ministry, visit compassion.com or follow them on twitter at @compassion.