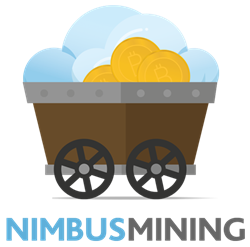 NimbusMining allows anyone to get bitcoin. If you can use Facebook you can also use NimbusMining.com.
Miami, FL & Kansas City, MO (PRWEB) June 11, 2014
NimbusMining (Nimbus Mining LLC), (http://www.nimbusmining.com) a US based bitcoin cloud mining company, has announced that it is launching its Bitcoin Managed Cloud Services using CoinWare Elastic Hashing Cloud (CoinWare EHC™) software, allowing it to provide bitcoin cloud mining contracts in perhaps the simplest application yet for consumers.
"NimbusMining allows anyone to get bitcoin and start mining bitcoin. If you can use Facebook you can also use NimbusMining.com", said Greg Bachrach, Founder and CEO of NimbusMining. "NimbusMining's Managed Cloud service uses a new, revolutionary technology developed by CoinWare called CoinWare Elastic Hashing Cloud or CoinWare EHC™, which is like an operating system working on top of the bitcoin protocol. It provides visibility to the average consumer of what is happening under the hood and is an important step in making bitcoin accessible to the masses."
NimbusMining Bitcoin Mining Contracts are unique in that they guarantee the hashing power purchased, so should the hardware or mine pool go down for any reason, when the contracts come back up they deliver higher hashing power as compensation. NimbusMining provides a mining pool with no monthly fees, but people can select another mining pool of their choice with visibility into what the monthly fees are. "The Nimbus Mining contract price on a full 12-month basis is lower than most competitors who charge monthly fees, usually discounting them from the mining proceeds and most people don't realize that as the price of bitcoin goes up so do the monthly fees being discounted," says Greg Bachrach.
About NimbusMining
Nimbus Mining LLC is a bitcoin cloud mining service that allows consumers to select their own mining pool and which uses the CoinWare EHC™ technology to deliver a clear picture of what is going on with the mining.