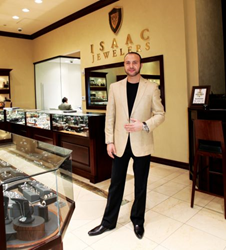 Frank Isaac, owner of Isaac Jewelers, gives back to his community in more ways than one.
Scottsdale, Arizona (PRWEB) June 22, 2014
Frank Isaac, owner of Isaac Jewelers, is actively searching for charitable organizations, that both he and Isaac Jewelers could potentially bring high level awareness by way of new community outreach programs into 2015.
Frank, has always devoted himself to high customer service standards and quality products, directly overlapping with his dedication to charitable organizations. His company prides itself on each personal relationship and experience and believes that this business mindset can always be applied to daily life and giving back. Isaac Jewelers does not carry conflict diamonds and describes why doing so is important through online education. Isaac's charity efforts not only expand to outside community give-back programs, such as Mother's Grace Foundation, Crisis Nursery, and Pope John XXIII Catholic School, but through his own influential campaigns helping local businesses and individuals.
While some choose charities at random, Frank chooses these charities due to his personal connection to them. Because Isaac knows the founders of these community outreach organizations, he is confident that 100 percent of the proceeds go directly to the cause. Additionally, each volunteer is employed without monetary compensation; this plays a major factor in Frank's decision to continuously donate to these foundations. Furthermore, Frank's children attend Pope John XXIII Catholic School, making this a perfect place to donate. Giving back to this school directly impacts his own family along with providing a better education for the community.
Mother's Grace Foundation creates an empowering, loving, and understanding support system for mother's and children that have undergone or are currently experiencing extreme hardships. They provide financial support, comfort and healing through counsel and guidance, children's education, and inspiration to help others in similar situations.
Crisis Nursery is another charity Frank Isaac prides himself on being apart of. It is the Phoenix area's longest standing children's shelter. They offer a refuge for children and families that have experienced mistreatment and homelessness. They have helped over 20,000 people since opening in 1977.
Pope John XXIII Catholic School incorporates Christian teachings into a structural curriculum. They encourage parental guidance along with personal, independent growth. Through their own charitable services, they help provide a safe environment inside and outside the school walls.
Isaac aids local entrepreneurs in efforts to further their career. He created a competition for models in the area to represent his company as the new "face" for Isaac Jewelers.
These foundations are sustainable through donations, community support, and outreach. Without dedication from companies such as Frank's, these organizations could not provide the necessary functions for their respective communities. Frank Isaac and Isaac Jewelers love giving back to both their customers and the community. They deliver great customer service and quality diamonds. What Frank instills in his own company translates directly into his charitable achievements.
About Frank Isaac and Isaac Jewelers:
Frank has hand selected a diverse group of knowledgeable and capable staff representing a variety of different cultures and traditions. With this focus, Isaac Jewelers is able to cater to each and every customer that walks through the door and provide him or her with an experience that they will never forget. Along with our exceptional service, Frank and his staff pride themselves on keeping up with all the latest products and knowledge in the industry. Together, with this combination, Isaac's is able to make each and every experience one that is extraordinary and memorable.
For more information, or potential outreach program proposals, please contact Chris at info@ripplecreativellc.com.
Isaac Jewelers - Frank Isaac
http://www.isaacjewelers.com
15044 N Scottsdale Rd. #130
Scottsdale, AZ 85254
(480) 941-9090