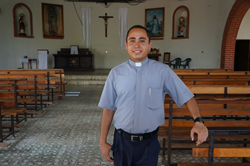 'It is a great support that somebody is offering to help the needy ones.'- Father Nelson
Kansas City, Kan. (PRWEB) June 11, 2014
Seven young men who had been supported through Unbound's seminarian sponsorship program were recently ordained in El Salvador and the Philippines.
They included Nelson Edgardo Fajardo Guevara of El Salvador, who was sponsored by Archbishop Joseph Naumann of the Archdiocese of Kansas City in Kansas.
Father Nelson calls sponsorship a gift from God. "God is the one working in the sponsors," he said. "Everything that comes from God is good. It is a great support that somebody is offering help to the needy ones. It is excellent the way that the foundation is also helping more people — children, youth, elderly — but it is also good to know that Unbound is helping the Church."
Jemilhelm M. Nunez in the Philippines also celebrated his ordination. "It was my dream to become a priest," Father Nunez said. "I believe that vocation is a mystery… a sacrifice… it is a gift of God and also it is my gift to him."
Father Nunez's sponsor, Elizabeth Noll of Winchester, Kan., said she is "thrilled and just so proud of him." She has sponsored through Unbound, formerly known as Christian Foundation for Children and Aging, for 16 years.
"I appreciate the priesthood so much and wanted to help someone become a priest," Noll said. "I feel blessed that I was able to have a small part."
Unbound was founded by lay Catholics and now serves people in 21 countries. Most sponsored friends are children and youth who are in school, as well as elderly people.
Unbound also sponsors young men and women studying for Catholic vocations. More than 600 seminarians have been sponsored and ordained as priests since 1996, when the organization began supporting vocation candidates. Seventy-five women have taken final vows.
Father Nelson and the three colleagues he studied with now serve in parishes in El Salvador. We at Unbound are honored to have a part in their faith journey.
"From the bottom of my heart, I would say thank you," Father Nelson said when asked what message he would like to give Unbound sponsors. "I would say please continue this great work. I continue praying for everyone who is part of [the organization]."
Unbound is the largest nonprofit in Kansas with more than $115 million in annual revenue. We work directly with children, families and the elderly in 21 developing countries as they confront the challenges of poverty and work toward a better life.
Unbound distributes direct aid as quickly and efficiently as possible to people who need it. More than 93 percent of all the money we spend goes to program support.