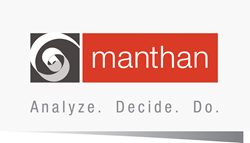 "CPG companies don't have to 'boil the ocean' to fully capitalize on these emerging big data resources. It really is all about having a focused strategy and applying powerful predictive analytics to the total shopper journey." Atul Jalan, Manthan CEO.
Scottsdale, AZ (PRWEB) June 10, 2014
Manthan, the global leader in analytics solutions for retail and consumer product industries, today announced that it is accelerating its growth in the Consumer Packaged Goods (CPG) market worldwide. During the past year, the company has expanded its team, products and services to meet the growing demand from CPG companies to help them drive significant incremental growth opportunities by enabling manufacturers to understand and activate the shopper's journey.
Manthan estimates that by adopting advanced shopper analytics and activation strategies and solutions, CPG companies can boost their sales by double digits year-over-year. In a US $2 Trillion dollar CPG industry, this translates into new growth equal to the size of many major CPG manufacturers.
Manthan is leveraging its advanced predictive analytics solutions and deep consumer products domain expertise to empower CPG organizations to embrace a new era of direct-to-consumer marketing. Powered by actionable insights offering a complete view of the shopper's journey across all retail channels, Manthan's integrated analytics solutions give CPG manufacturers and their retail partners a competitive advantage in today's historically challenging global consumer products marketplace.
"The consumer products landscape has undergone a sea-change in recent years, driven by rapidly emerging digital and mobile technologies, big shifts in shopper behaviors and demographics, and unprecedented macroeconomic challenges," said Atul Jalan, CEO of Manthan. "The result is that CPG manufacturers now have to work harder than ever just to stay even, no less grow."
Jalan continued: "We believe, however, that the CPG industry is poised to regain its competitive edge and ignite new levels of global growth. The reason for our optimism is that CPG companies increasingly are embracing powerful new ways to collect, analyze and action data that enable them to truly understand and activate the shopper's journey. Using these advanced predictive analytics, CPG brands can now move quickly from data, to insights, to action. And that means more sales, healthier brands and more profitable CPG companies."
Senior Hires Drive Manthan's Global CPG Expansion
To help manage and drive its CPG growth efforts, Manthan has expanded its CPG team, including the recent hiring of Kirk W. Wheeler as Executive VP and General Manager of Manthan's Global CPG Practice. A veteran CPG industry executive with extensive experience in global brands, sales & marketing and big data management, Wheeler's job is to orchestrate Manthan's global technology, services and human resources to create solutions that help CPG manufacturers to grow and win. Prior to joining Manthan, Wheeler held senior management positions at IRI, Cabela's, P&G and Coca Cola. Wheeler ran Coca Cola's business in several countries in Asia.
"There is a huge opportunity for CPG companies today to embrace a more comprehensive, holistic marketing approach that involves building a direct and robust relationship between their brands and the shopper," said Wheeler. "This requires having a fully integrated activation strategy founded on actionable insights about the shopper's needs, desires and behaviors. The old point-to-point strategy based on already outdated transactional data just won't cut it in today's highly dynamic and fiercely competitive consumer products marketplace."
Manthan Launches Exclusive CPG Analytics Solutions Suite
Manthan helps CPG companies develop and implement actionable insights through an exclusive CPG Analytics Solutions Suite that is focused on the three critical stages of understanding and activating the shopper's journey:

What You Sell – This involves using predictive "Brand Analytics" to measure brand health, growth and perceptions. By using both survey analytics and brand growth analytics, CPG manufacturers can better focus in on what shoppers are seeking to buy when they make their purchasing decisions.
How You Sell – CPG companies can use advanced "Marketing Analytics" to analyze all aspects of how the brand interacts with the shopper. These predictive analytics maximize ROI on marketing and promotional spending by determining which messages and mediums resonate best with a specific shopper base, like tech savvy Millennial consumers.
Where You Sell – Predictive "Channel Analytics" solutions enable CPG marketers to covert the "what" and "how" insights into actual sales. Retailers and CPG manufacturers alike can generate better growth by understanding the total shopper journey and magnifying their understanding of the way shoppers make decisions once they are in the store. That "store" can be a physical "brick and mortar" retail space or a digital one (web or mobile), or both.
Manthan also makes sure that these actionable insights are delivered to the front-line CPG brand teams that need them most, when they need them. These "democratized" data insights are presented via practical, easy to use platforms such as tablets and even smartphones.
"Today, there is a growing strategic imperative for CPG companies to mine real-time insights out of the full spectrum of big data generated daily by the shopper's journey," said CEO Atul Jalan. "This includes massive amounts of unstructured data – including social media data – that are hard to collect, manage, and extract insights from."
"CPG companies don't have to 'boil the ocean' to fully capitalize on these emerging big data resources," Jalan added. "It really is all about having a focused strategy and applying powerful predictive analytics to the total shopper journey. The resulting insights will empower CPG manufacturers to activate the entire shopper journey, which in turn drives incremental sales and revenue growth and ultimately profits."
About Manthan
Manthan serves as the Chief Analytics Officer for global consumer industries. Manthan's comprehensive portfolio of analytics products and services enable CPG manufacturers and their retail partners to understand and activate the shopper's journey. Architected with deep industry expertise, Manthan's solutions combine advanced predictive analytics, actionable insights and unmatched shopper knowledge to help customers identify and drive incremental growth opportunities. Manthan has provided its business-building analytics solutions to over 120 leading retail and CPG organizations across 19 countries. Visit Manthan at http://www.ManthanSystems.com.